ITINERARY
Day 1: LIMA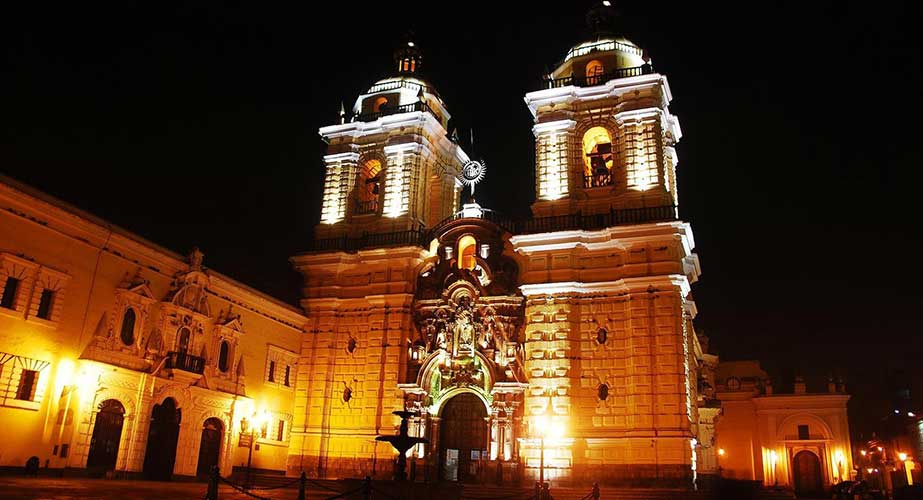 ---
Pick up at the airport and transfer to your hotel.
Colonial City Tour in Lima (afternoon)
The tour begins with the pick up of our passengers from their respective hotels in Lima, and then we will proceed to make a stop at the Intihuatana Park, located on the Malecon of Miraflores, from where we will appreciate the Pacific Ocean. We will continue our tour through the modern residential districts of Miraflores and San Isidro where we will observe the Huaca Pucllana and pre-Inca ceremonial temple in the shape of a pyramid that has survived the urban expansion of Lima throughout this time.
Continuing our tour, we will visit the Olivar Park and the Financial Center then we will go to the Historical Center of Lima, declared by UNESCO as Cultural Patrimony of Humanity in 1991, where the center of the Spanish colony was established in the 16th century and the first buildings were erected. We will visit the San Martin Square, with its old and traditional mansions, its balconies, the Main Square and its most important buildings such as the Government Palace, the Lima Cathedral, the Archbishop's and Municipal Palace, the Desamparados Station, among others.
We will enter one of the most important convents of the 17th century, where the relics of the three Peruvian saints Santa Rosa de Lima, San Martin de Porres and San Juan Macías are keep. To finish our tour we will return to Miraflores where you will have the option to stay at the Indian Market, in Larcomar or return to your hotel.
Overnight in Lima
---
Day 2: LIMA - CUSCO (FREE)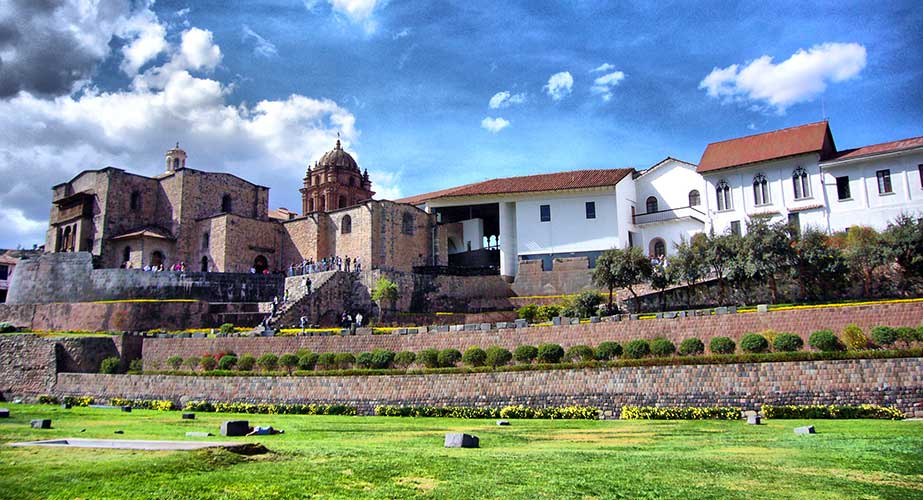 ---
Breakfast at the hotel
At the appropriate time transfer to the airport in Lima.
Flight Lima - Cusco (on behalf of the Paxs)
Reception at the airport in Cusco and transfer to your hotel.
Afternoon free to acclimatize to the altitude or do activities on your own.
Overnight in Cusc
---
Day 3: SACRED VALLEY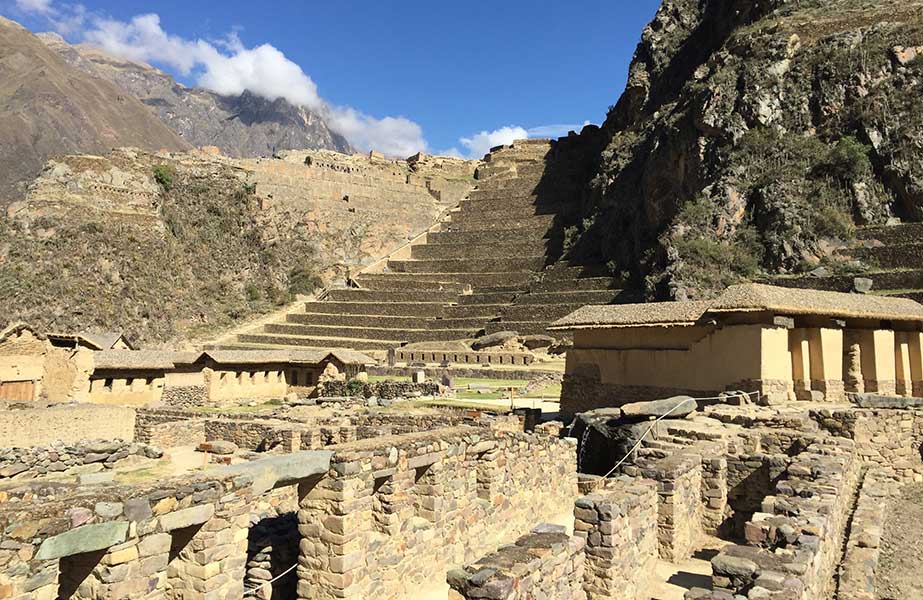 ---
Meals: Breakfast, lunch.
Accommodation: Hotel in Cusco.
Places: Cusco, Sacred Valley, Pisac, Urubamba, Ollantaytambo, Chinchero.
Highest Elevation (Chincheros) – 3,754 meters ASL / 12,316
---
Breakfast at the hotel.
8: 00 am, Pick up from your hotel to begin our tour of the Sacred Valley of the Incas, leaving the city of Cusco to cross the archaeological park of Sacsahuaman. We will arrive at the viewpoint of Taray, a place from which we can see the imposing and beautiful Inca terraces and the current crop fields, which surround the sacred river of the Incas, called "Willcamayuc".
Later we will visit the archaeological park of Pisaq, and the indigenous market, which is very colorful because you can appreciate all kinds of products from crafts, textiles, jewelry to products grown by the same locals and the incredible thing about them is that they still practice the "barter" thus keeping the culture alive. This is why Pisaq's indigenous market is the best place to shop for handicrafts and souvenirs. After some free time we will continue our trip towards Ollantaytambo, known as the last living Inca city.
Ollantaytambo is one of the Inca cities in Peru that is still inhabited today and the architectural type employed, as well as the quality of each stone, worked individually make it one of the most peculiar and surprising works of art that the ancient Peruvians made, especially the temple of the sun and its gigantic monoliths. In addition, Ollantaytambo reminds us to a mythical history of Love, drama that makes prevail the love before all obstacle, it is believed that the General Inca Ollantay constructed this city in a moment of rebellion against the real army of the Inca when preventing him its union before the beautiful princess Cusi Qoyllor "beautiful star".
Continuing with our guided tour, we arrive at Chinchero, where it is colonial and Inca temple reflects the current syncretism of these two great cultures. Chinchero is also known for its textile art, which is very characteristic for its colors obtained from the roots of plants and its great weavers who create beautiful works with Inca techniques.
Lunch on this tour is included in the village of Urubamba.
We finish our tour by returning to Cusco, and on the way. We will observe abundant agricultural lands.
Arrival to Cusco at 19:00 pm approximately, where you will be at the door of your hotel or place you indicate.
Overnight in Cusco
---
Day 4: TRANSFER BY ITEP VAN FROM CUSCO TO KM 82 "INKA TRAIL ENTRANCE"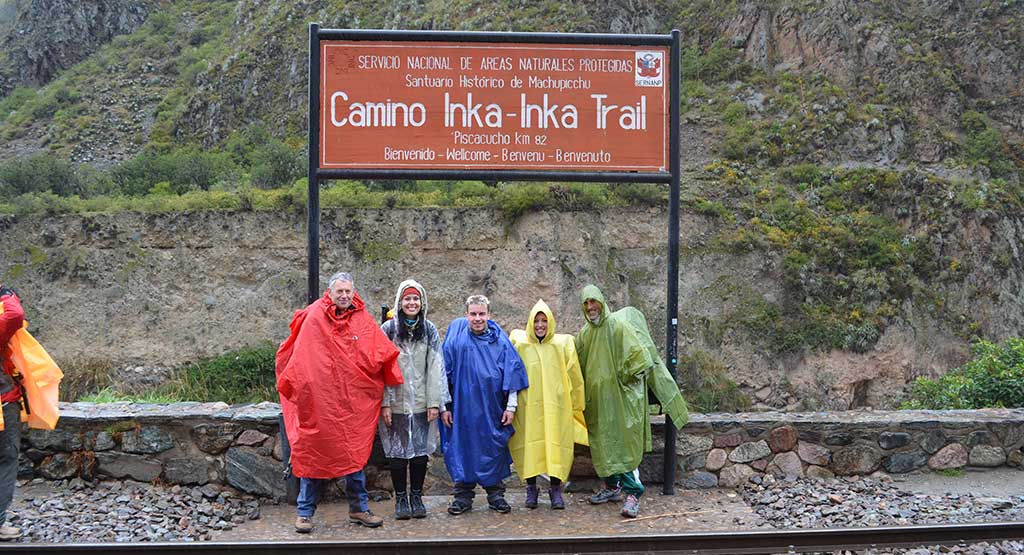 ---
Meals: Lunch, snacks and dinner.
Accommodation: Camping facilities.
Distance: 11kms / 6.8 mls (6 hours more or less of walking)
Difficulty: Easy / moderate.
Walking time: Approximately 6 hours (including picnic lunch on the route)
Hiking and terrain: Hiking on open and steep trails.
---
Breakfast at the hotel, at the coordinated time you will be picked up from the hotel to be transported by ITEP from Cusco through the Sacred Valley of the Incas, finally we will arrive at Km 82 "Entrance to the Inka Trail".
Trekking Km 82 "Piscacucho to Wayllabamba"
Today begins the adventure of a lifetime our classic Inka Trail. We will pick you up from your hotel in our private transportation very early at 05:30 a.m. We will take you through the Sacred Valley of the Incas, where our transportation will take us to Piscacucho or kilometer 82, where the Classic Inca Trail begins. On the way, we stop for breakfast in Ollantaytambo around 6:30am to recharge our energy, it should be noted that breakfast is not included, and then we will start our trail. Around 09:30 a.m. we will arrive at kilometer 82, which is the first checkpoint of the Inca Trail, at this point you will need to be ready to show your entrance tickets, passports and (if paying a student fee) your student card.
At the beginning of the trail (2720 m / 8923 ft), we will cross the Vilcanota River and follow the trail to the right. The first day is relatively easy; it is a warm up along the Inca flat land. There are excellent views of the Inca Fortress ('Huillca Raccay'), and the vast and incredible Inca site of Llactapata, (officially called 'Patallacta'), and the beautiful snow-capped peak of 'W'akay Willca' (5860m / 19225ft) known as Veronica. Our first camp is located in Wayllabamba (3000m / 9842ft) a temperate green valley with the same name. Night temperatures vary between 5°C depending on the month.
During the day, we will enjoy the impressive views of the mountains and snow-capped mountains, the lush green valley that surrounds us and a varied presence of flora and fauna.
---
Day 5: TREKKING "WAYLLABAMBA TO PACAYMAYUC/ RUNKURAQAY"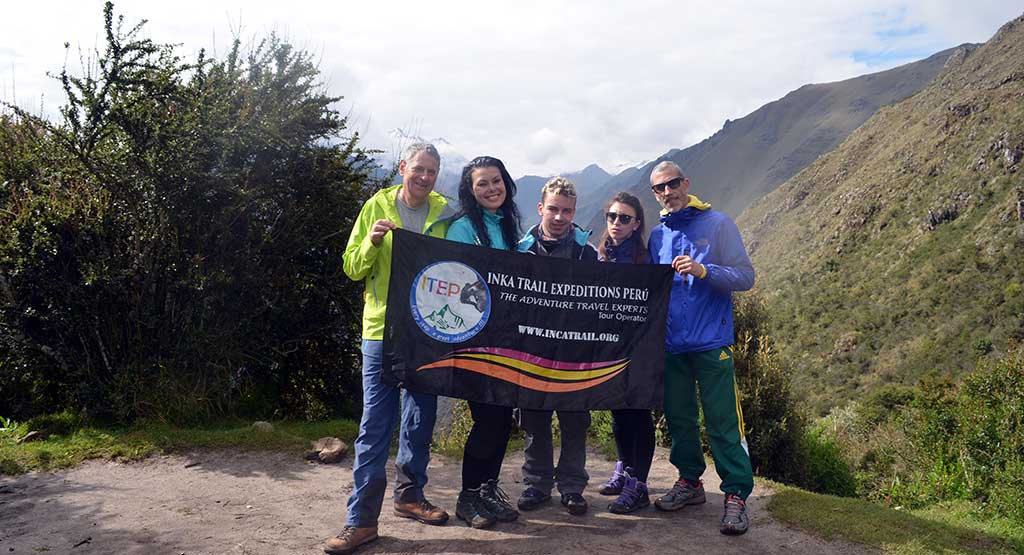 ---
Meals: Breakfast, lunch and dinner.
Accommodation: Camping facilities.
Distance: 16kms / 10mls (9 hours or so of walking time)
Difficulty: Moderate.
---
After waking up around 5:30 a.m. and enjoying a delicious breakfast, we will begin a steep ascent to the highest pass, the Warmihuañusca Pass or 'Dead Woman's Pass' at 4200 m / 13779 ft. On this day, you will feel a real sense of accomplishment as you reach the top! After a well deserved rest, we will start the descent to Pacaymayu where we will have a short break for lunch (3550m / 11646ft).
On our way to the pass, we will be able to see a variety of hummingbirds and a combination of other bird species. You will have plenty of time to appreciate the incredible variety of native plants and the 'Polylepis' or Q'ueuña trees that grow in the amazing cloud forest located at 3650m. After lunch, the second steep two-hour climb to the Runkuraqay pass begins (almost 4000m / 13,123ft). We arrive at our campsite at 5 pm. Temperatures in this camp are 4°C during the night.
---
Day 6: TREKKING "PACAYMAYUC TO WIÑAYHUAYNA"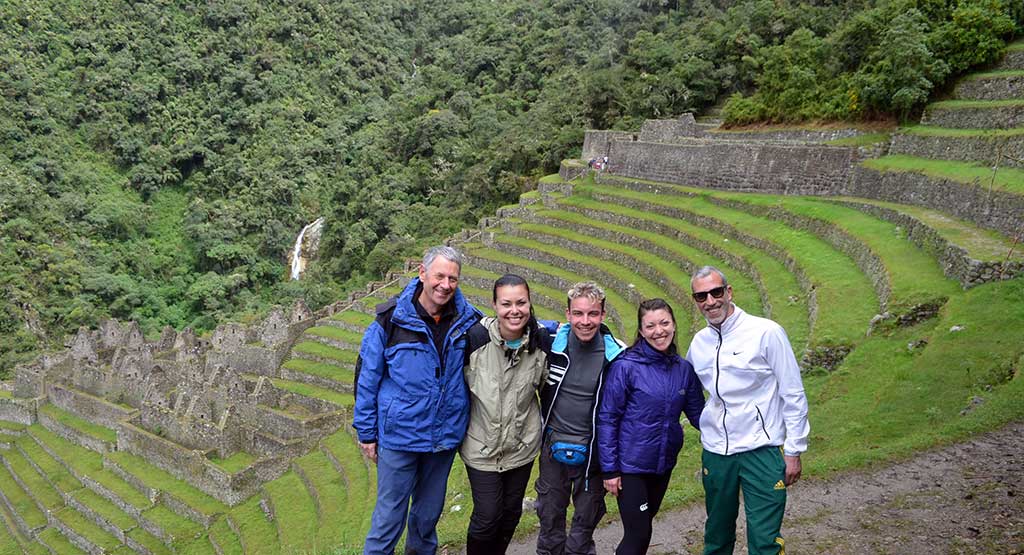 ---
Meals: Breakfast, lunch and dinner.
Accommodation: Camping facilities and cold water showers.
Distance: 10kms / 6.2mls (5 hours or so of walking)
Difficulty: Moderate
---
This is the most impressive day; keep this in mind as you ascend on day three! We will get up for breakfast at 6:00 am and start the day with a gentle walk uphill to visit the archaeological site of "Phuyupatamarca" (which means "City in the Clouds"). Here we arrive at the third highest point of the Inca Trail (3680m /) the views of the mountains, canyons and surroundings are breathtaking and impressive!
The Inca site of "Phuyupatamarca" is only a few minutes walk from the third pass. After visiting this site, we will descend 3000 steps through the cloud forest to the impressive Inca agricultural site of Intipata. After giving you some time to visit this site, we will continue with the hike until we reach our third Wiñay Wayna campsite. (2680 m / 8792 ft).
This day we will only walk around 4 to 5 hours, arriving at the campsite at lunch time! The temperatures during the night are approximately 12° C. A few steps from our camp is the famous Inca site of "Wiñay Wayna" ("Young forever"). Even if you feel tired after the hike, it is a place that you cannot miss, as it is one of the most impressive sites on the Inca Trail.
---
Day 7: TREKKING "WIÑAYHUAYNA – INTI PUNKU & MACHUPICCHU GUIDED TOUR"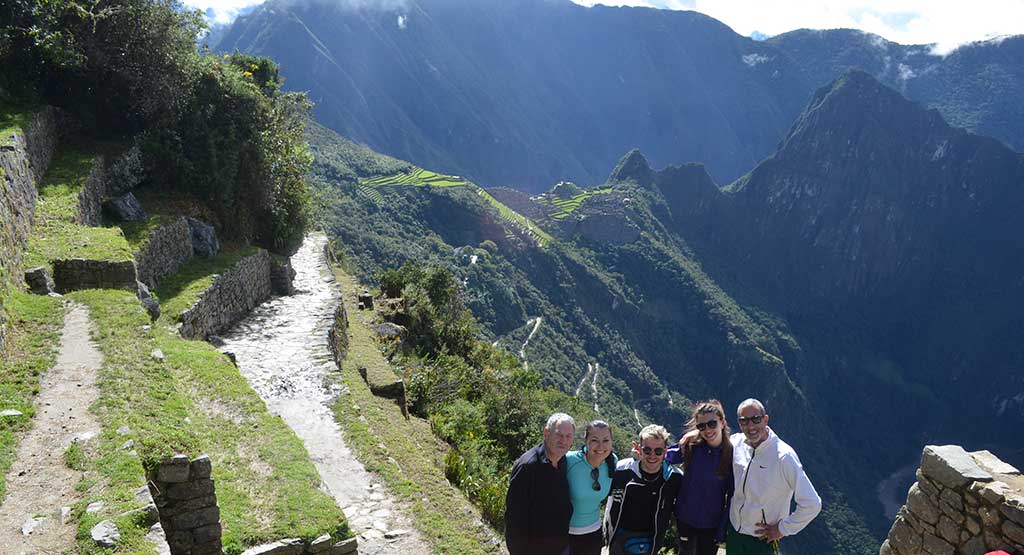 ---
Meals: Breakfast
Distance: 8.9kms / 5.5mls "By bus in 25 minutes
Difficulty: Easy:
---
Around 4:00 am, it is time to get up, have breakfast and start day 4 on the Inca Trail to get to Machu Picchu in time. This is the final leg of your trek, arriving at 6:00 a.m. to reach Inti Punku or the gateway to the sun. At that point, the majestic Citadel of Machu Picchu is in front of us with its immense and imposing beauty, an incredible view for everyone. The reality of what the Inca people must have encountered on their grueling journey to this expansive temple of Machu Picchu. At this point, we walk downhill towards the citadel of Machu Picchu. (2400m / 7872 ft.) After walking for 40 minutes, we enter the citadel from the top through the "Casa de los Guardianes".
From there we continue to the checkpoint where we check in and leave our belongings. Your professional guide will lead you through the amazing archaeological complex and its main streets. You can walk around the citadel's squares and climb the intricately carved stone stairs. Machu Picchu is considered the spiritual center of the world for esoteric wisdom. After the guided tour, you will have free time to explore the complex on your own.
You will also have time to enjoy some of the following activities on your own if you wish (not included in the price and optional)
Climb the Huayna Picchu or Machu Picchu Mountain and appreciate the beauty and magnificence of Machu Picchu from there.
Other optional activities in Aguas Calientes include a visit to the new local museum or bathing in the hot springs.
Return to Cusco: You will descend to Aguas Calientes or Machupicchu town and then board the Expedition train to Ollantaytambo train station. "The train departure time may vary depending on the schedule and availability of the train". At the Ollantaytambo train station, you will meet our transport and be transferred to your hotel in Cusco.
ABOUT THE CAMPSITES ON THE INCA TRAIL:
Please note: The camps may change (according to the itinerary) depending on the weather and availability of the reserve, the weather conditions or the restrictions adopted by the Peruvian government for security reasons.
---
Day 8: CUSCO OUT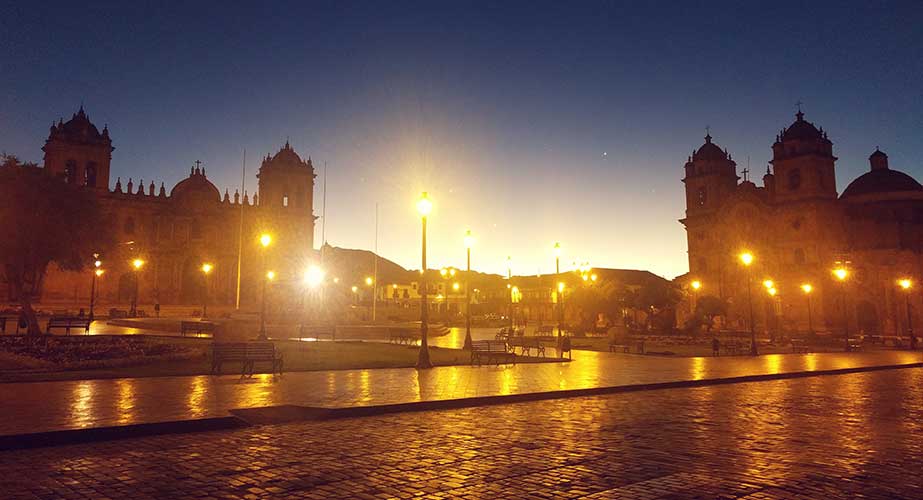 ---
Breakfast at the hotel
At the appropriate time, transfer to the airport in Cusco.
---
End of our Services
INCLUDES
LIMA
Transfer in/out airport - hotel - airport
01 night accommodation in Lima with breakfast
Lima Colonial City Tour with revenue
CUSCO
Transfer in/out airport - hotel - airport
03 nights accommodation in Cusco with breakfast
Full Day Sacred Valley + Buffet Lunch
Pre-departure information: You will meet your guide and royalty group of the Inca Trail in our office so that we can provide you with accurate information before your hike. At this time, we will provide you with the canvas bags that will be carried by our Porters. The meeting will be at 6:00 PM before the trip begins. In case you cannot come at this time, please "let us know" so we can coordinate it.
Tourist transportation: We will pick you up from your hotel in Cusco in the morning and you will travel by private transportation to Piscacucho, the starting point of the Royal Inca Trail to Machupicchu.
Tourist guide with experience on the Royal Inca Trail: English speaking tourist guide, professionally educated and official with tourist certification. They all grew up in this region and have a true passion for teaching others about their heritage. Your guide will talk to you about the culture and surroundings along the entire route, including leading your group in ancient ceremonies! He or she will keep you safe, healthy and comfortable on your trek so you can enjoy your time along the Inca Trail and will make sure you are safe and happy.
Experienced Machupicchu cultural tour guide: Speaks English, professional, with tourist certification. To visit the sacred city of Machupicchu
Private campsites: Each camp is carefully chosen to have a very personalized experience

Night 1: Enjoy the first night in Wayllabamba and sleep in our 4 season Pro Aconcagua Doite tents. All our tents are for four people, but ONLY 2 sleep, leaving plenty of room to spread out comfortably and store your canvas bags. They also include a small lobby at the front, which gives you extra space outdoors to leave your boots and poles so you do not have to bring in dirt.
Night 2: Enjoy the second night in Pacaymayu on the Royal Inca Trail and sleep in our 4 season Pro Aconcagua Doite tents. All our tents are for four people, but ONLY 2 sleep, leaving plenty of room to spread out comfortably and store your canvas bags. They also include a small lobby at the front, which gives you extra space outdoors to leave your boots and poles so you do not have to bring in dirt.
Night 3: Enjoy the third night in Wiñay Huayna on the Royal Inca Trail and sleep in our 4 season Pro Aconcagua Doite tents. All our tents are for four people, but ONLY 2 sleep, leaving plenty of room to spread out comfortably and store your canvas bags. They also include a small lobby at the front, which gives you extra space outdoors to leave your boots and poles so you do not have to bring in dirt.
Note: It is not usual for accommodations or hotels to change after confirmation; however, it may vary according to government regulations and authorizations due to bad weather conditions and perhaps the physical condition of our visitors: Any changes and ITEP will be informing you in advance and as soon as possible.
Camping equipment: Dining and kitchen tents, tables, chairs and cooking equipment (all carried by our porters and horses).
Entrance ticket to the Inca Trail
Entrance ticket to the Inca site of Machu Picchu
One canvas bag: You can keep your personal luggage; this bag will be carried by the passengers themselves. The porters can take your equipment but it will be an additional cost.
Professional trekking chef: A professional chef specialized in cooking on the way, with an assistant, will prepare all your delicious meals along our trip on the way to replenish your energy every day. You will never go hungry!
Meals: 3 breakfasts, 3 lunches, 3 dinners (vegetarian, vegan or special menus available at no extra cost) Please note (first breakfast and last lunch not included)
Boiled water: from your first lunch to your last breakfast, Inka Trail Expeditions will supply all the necessary water. This water will be boiled, filtered and then cooled, before being distributed. You must supply your own water bottles. We recommend that you bring about 3L.
Waking up with tea: Every morning at camp, you will wake up with a cup of coke tea! Our staff will bring the tea to your tent to warm it up before the day starts.
Teatime every day during the walk: Every afternoon before dinner, the cooks will serve you popcorn, cookies, coffee, hot chocolate, tea, hot water, etc. After a long day of walking, you will not have to wait until dinner to relax, and enjoy a bite to eat!
Hygiene products: You will be provided with a small towel before each meal to wash your hands and every morning there will be a bucket with warm water to wash up.
Medical kit and oxygen bottle: Our team will bring a first aid kit, which includes an emergency oxygen bottle.
Bus Consettur to Machupicchu - Aguas Calientes
Train tickets: From Machupicchu village station to Ollantaytambo train station (departure time is confirmed on the day of the meeting and is subject to availability) and Vistadome train on return for 4 and 5 star category.
Transfer back to Cusco: Private tourist transport from Ollantaytambo train station to your hotel in Cusco (Day 4)
24-hour guest service: We have a 24-hour telephone service available to facilitate communication and preparation with the agency leading to your trip.
NOT INCLUDED
International and national air tickets
Food not mentioned in Lima and Cusco
Sleeping bags: You can rent one from our company if you do not have your own. Our sleeping bags are effective and durable to protect from temperatures as low as -18°C (0°F). They are shaped like mummies and include a sleeping pad. The bags are cleaned after each use.
Walking sticks: You can rent a set from our company if you wish.
Day 1: Breakfast on the Inca Trail: Approximately Usd5 to usd 10.00, the price may vary according to your selection.
Last day on the Inca Trail: Lunch and dinner in Aguas Calientes. Approximately Usd 20 to 25.00, the price may vary according to your selection.
Personal clothing and equipment
Travel Insurance
Tips for assistance staff: Please note that our agency staff is well paid, so please feel free to tip or not as you wish "Recommendation usd 6 to usd 8 per day per traveler for all trekking staff"- Again this is optional and may vary according to your satisfaction.
Additional costs or delays out of management control (landscape, bad weather conditions, modification of the itinerary for security reasons, illness, change of government policy, political instability/strike, etc.).
Extras
Canes ($15 for a pair of canes).
Extra porter for personal items ($80 for 7 Kilos - max. 7 Kilos).
Upgrade to the Vistadome train ($50).
Entrance ticket to Huayna Picchu or Sacred Mountain of Machupicchu (75$) - There is a limited space in Huayna Picchu (400 people per day), so it is a good idea to book in advance.
YOU NEED
Original passport
Sleeping bag (not included, but can be rented at our offices)
Walking boots
Waterproof jacket / rain poncho
Wool warm-up jacket, hat and gloves
T-shirts or polo shirts
Comfortable pants
Sun hat
Sunglasses
Sun protection cream (factor 35 recommended)
Reusable plastic bottle or metal water container or camel bags.
Water (only for the first 4 hours of walking, then we will give you the previously boiled water
Insect repellent
Toiletries
Personal medication
Camera and films
Flashlight with spare batteries (headlights are useful)
Something else:
Shorts
Cane (with rubber tip)
Bandages
Sandals
Extra money
Bathing suit (for the hot springs in Aguas Calientes)