ITINERARY
Day 1: CUSCO – TOMACAYA COMMUNITY – TINCOQ CAMP

---
Highlights: Hiking over the mountains, acclimatization day "Moderate hiking day"
DISTANCE: 11 km / 6.83 miles
TIME: Approximately 6 hours (including a picnic on the trail)
ROAD AND TERRAIN: Walk on open roads, regular Ups and Downs, stony and muddy path.
---
Pick you up from your hotel at 5.00 am with direction to Limatambo Town (2 600m / 8 530 ft) 2 hours from Cusco city, where we will have breakfast for 30 at 40 minutes, and then we will go again by bus to Tomacaya Community (3 200m / 10 498ft) where our horses and horseman await us ready to start the hike. Once there we will get ready for start the trail like use of sunscreen, mosquito repellent, toilets among others.
Once ready we will start walking ascending a steep path surrounded by typical vegetation of the area, appreciating flora, fauna and beautiful landscapes that will envelop you from beginning to the end. After 2 hours we will arrive at our lunch point where we will enjoy a variety of dishes prepared by our chef, after lunch we will continue for 2 more hours to our camp called Tincoq (4100m / 13451ft) where our tents will be ready to accommodate us and have free afternoon. And then we will have tea time and dinner before bed.
---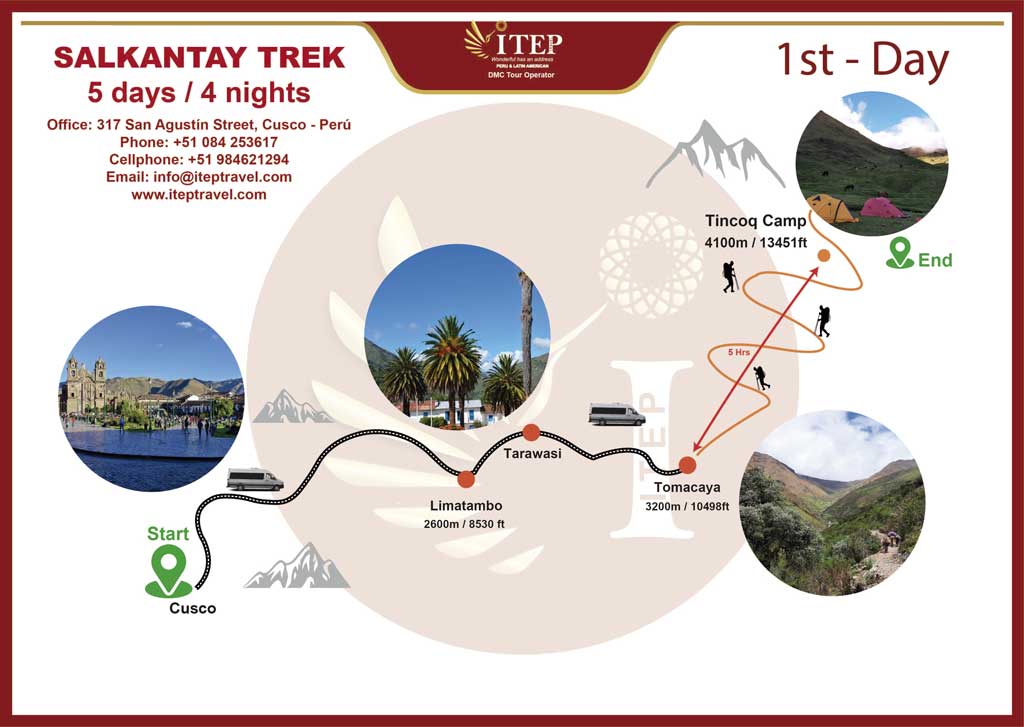 ---
Day 2: TINCOQ CAMP - CROSSING

---
Highlights: Toqtoq pass, Incachiriasca pass, majestic Salkantay mountain, lagoons, ancestral Inca trail.
Overnight in Acopampa camp 4 200 m.a.s.l. /13 779 ft.
DISTANCE: 13 Km / 8.07 Miles
TIME: 7 to 8 hours approximately (including picnic on the trail)
ROAD AND TERRAIN: Steep Ups, rough path, steep and regular descents, stony and muddy.
---
Early in the morning at 4:00 a.m., we will get up with a hot coca tea, at 5:00 a.m., after a good breakfast we will start our walk to reach the Toqtoq pass (we will take the opportunity to walk early in the morning and before the sun rises). It will be uphill for approximately 5 hours to the highest point appreciating majestic landscapes typical of the Andes.
A LITTLE HISTORY:
The name Salkantay or Salqanqay comes from quechua word called "Salq`a", that means Savage or invincible and was recorded since 1583.
The name is often translated as "Savage Mountain". Directly to the north of Salkantay is Machu Picchu that is located at the end of range mountain. When the Southern Cross constellation is above the Salkantay summit its highest point during the rainy season that was so important because the Quechuas associated this alignment with the concepts of rain and fertility, and considered the Salkantay as one of the principal deities that control the climate and fertility in the western region of Cusco.
Once in Toqtoq pass (4 850m / 15 912ft) we will appreciate an amazing view of the Salkantay mountain the second highest mountain in Cusco (6 250m / 20 505ft) in the majestic Andes, and if we are lucky will be able to appreciate the sky`s king "The Condor" (S.N. Vultur Gryphus) or Apuchin (local language) from there we will go to Incachiriasca pass or frozen Inca pass (4 950m / 16 240ft) following a path through the mountains and be able to appreciate Salkantay and one turquoise green lagoon that is below of Salkantay mountain. When we arrive there is where going to do a small ritual that we will offer some coca leaves (considered sacred in the Incas time) those will be dedicated to the mountains for giving us their protection along the way.
After that we will take the path going down through the mountain valley towards our lunch point called Yanaq´aqa or black mountain (4 400m / 14 435ft) where our chef awaits us with a delicious and restorative lunch. After lunch we will continue for 1 more hour to our campsite called Acopampa (4 200m/13 779ft.), where our tents will be ready, Tea time and dinner
---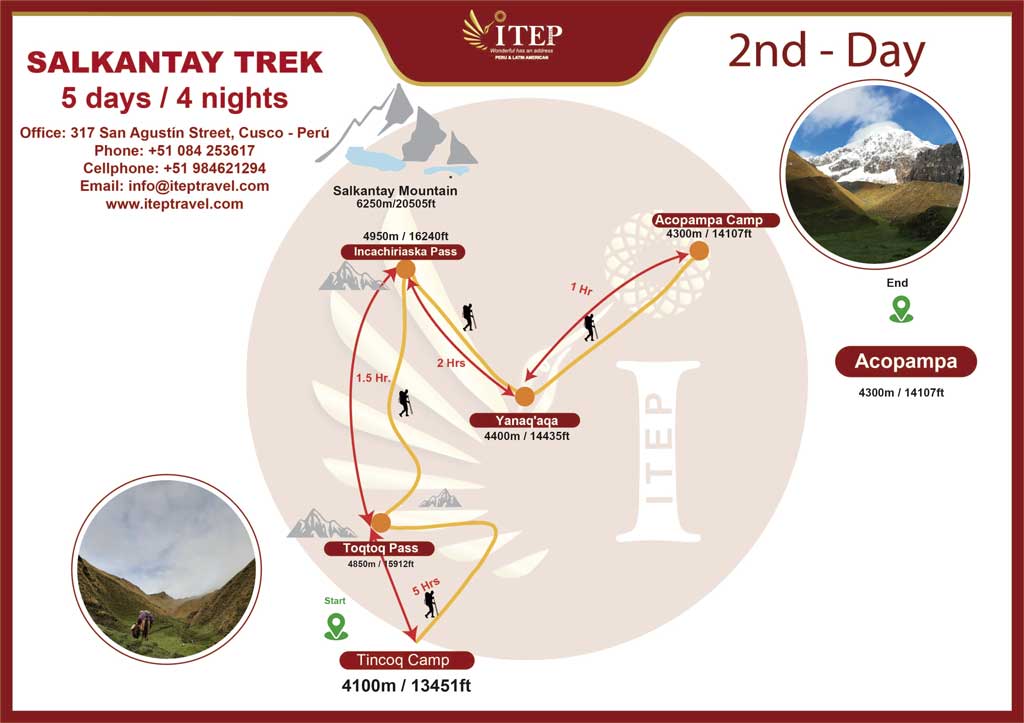 ---
Day 3: ACOPAMPA - PAUCARCANCHA - WAYLLABAMBA – MESKAY CAMP

---
Highlights: archaeological sites of Paucarcancha, Willkaraqay and Llactapata
Overnight in Meskay camp at 2 763 m.a.s.l / 9 064 ft.
DISTANCE: 14 KM /8.69 Miles
TIME: 7 hours approximately (including lunch along the way)
ROAD AND TERRAIN: Steep and regular descent, stony and sandy path
---
The third day is full of Culture and History, we will start with a regular descent towards Pampaccahuana (3 800m / 12 467ft) where we can appreciate a beautiful construction of one huge water canal called "Inca Canal" that the local people modified the course of the river that is this place is a majestic construction in the Andes for ceremonial purpose dedicated to the water that was considered as begins of the life. And they opened the area for farming places too.
And then we will continue descending through one path covered with typical vegetation of the area, appreciating the how the climate change, variety of flora and fauna until our lunch point Paucarcancha (3100m / 10170ft) where there is a beautiful construction of enclosures ceremonial houses, warehouses and small plaza that looks that was a royal palace. After an explanation of this place we will arrive at our lunch point to enjoy a delicious dish of Cusco and Peruvian cuisine.
After take a rest we will continue towards Meskay camp (2,763m / 9,064ft.) But before we will pass through the town of Wayllabamba (2,900m / 9514ft), the first campsite on the classic Inca trail, appreciating part of the trail going to the lost city of the Incas. After that we will arrive at the Archaeological site of Llactapata (the town in the upper part) majestic construction under the Mountain where you can see ceremonial centers, houses, warehouses, farming terraces, water canals, royal houses and much more. After an explanation of this place, we will continue to our camp where our chef awaits us with Tea time, and dinner.
---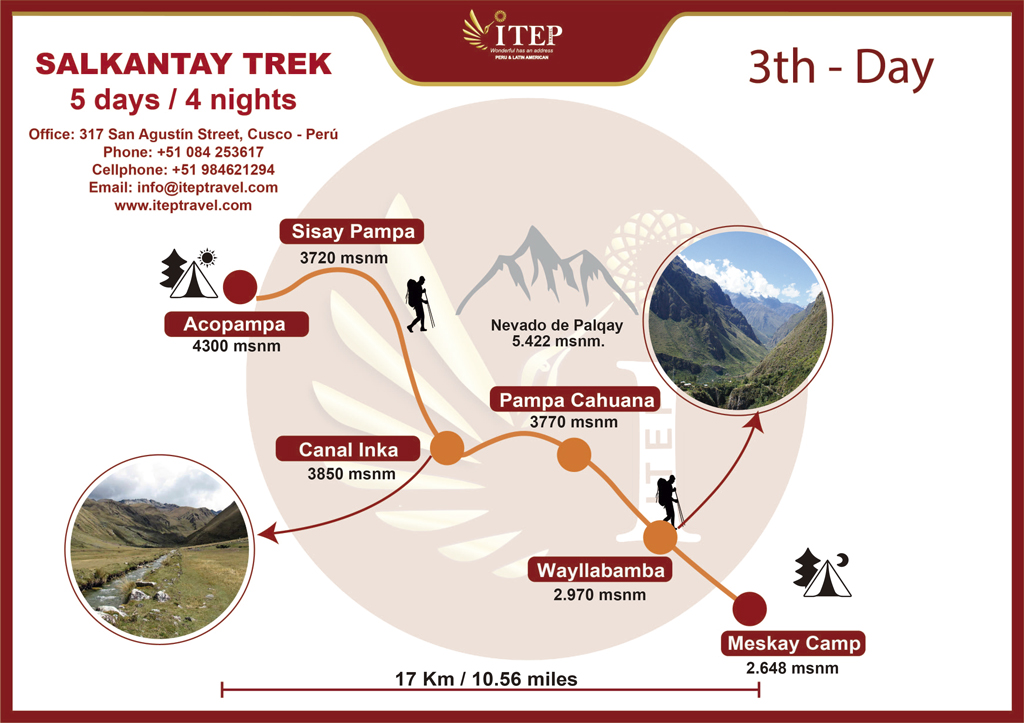 ---
Day 4: MESKAY - KM82 - OLLANTAYTAMBO - AGUAS CALIENTES

---
Walking towards one Alive Museum "Ollantaytambo town"
Overnight in Machupicchu town at 2 050 m.a.s.l / 6 752ft.
DISTANCE: 4.6 Km / 2.85 Miles
DURATION OF THE WALK: 3 hours approximately
ROAD AND TERRAIN: easy ascents and descents, dry, sandy terrain
---
We will depart from Meskay towards to km 82 or Piscacucho for 2 hours following part of the classic Inca trail, once we get there one bus waiting to take us to Ollantaytambo (2 845m / 9 333ft.). After 30 minutes we will arrive at the town known as "alive museum" where we can walk through its beautiful streets, appreciate wonderful constructions and local people wearing traditional clothes. After that we will hike to the Qolcas or warehouses dedicated to the conservation of products like potatoes, corn, bean and others, is a majestic place built in the mountain, and then we will go to our lunch point which will be in one local tourist restaurant.
After lunch we will go to the train station which we will take for 2 hours appreciating a beautiful landscape along the rail way and we will arrive to Machu Picchu town (2 050m / 6 752ft) where our accommodation awaits, hot shower and rest. Dinner will be in one tourist restaurant of the town and prepare for the last day.
---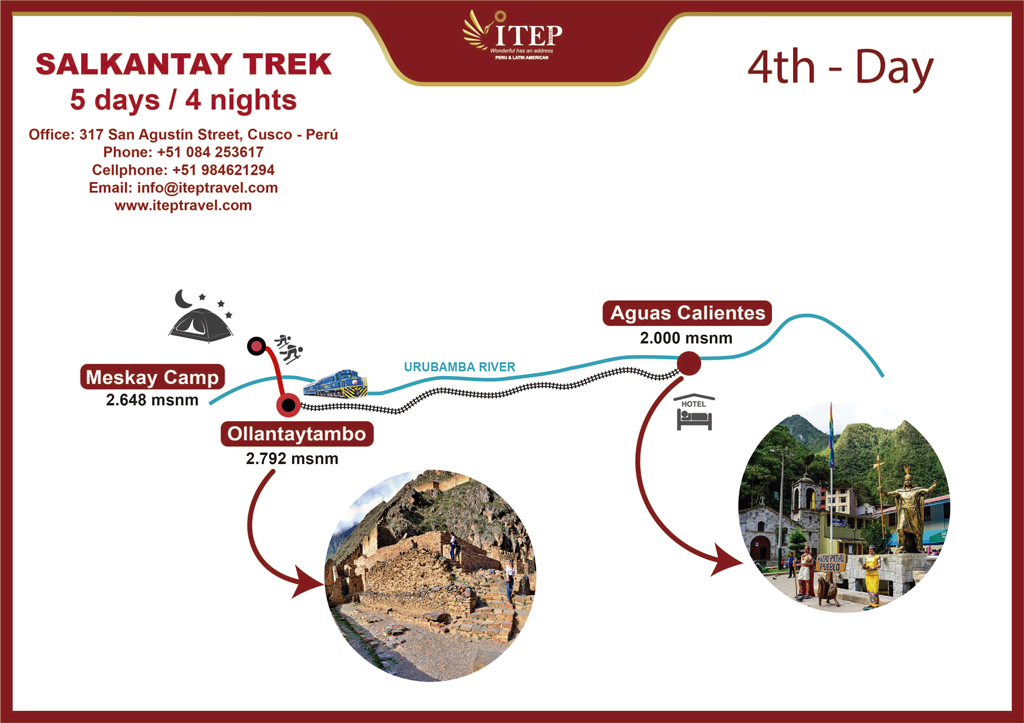 ---
Day 5: VISIT TO THE SANCTUARY OF MACHU PICCHU

---
Highlights: Sanctuary of Machupicchu
Distance: 2kms / 1.24mls
Difficulty: Easy
---
After an early breakfast in the hotel, we will go to take the bus to Machu Picchu Sanctuary (30 minutes). And the tour guide will give you an introductory guided tour of the Inca city.
Guided tour of Machupicchu: The Inca city of Machupicchu opens at 6 a.m. We will be between 6:00 am and 7:00 am After to show our entrance ticket and passport, we will go up to the best view point to take a classical photo of Machupicchu from the guardian house, after 30 minutes of free time for pictures our guide will provide us with detailed and extensive information about this place for approximately 1 hour.
After the explanation of our tour guide from de Guardian house. - We will continue to the Inca city for one more hour, showing to you the most important places like the middle square, the temple of the 3 windows, Inca house, Sun temple and much more. When you will reach to the Sacred Rock "closer to the entrance of Huaynapicchu Mountain", The guide will give you some free time to explore the Inca city on your own. If you want to climb the Huayna Picchu or Machu Picchu mountains (not included in the price, spaces are limited, let us know).
Very important 1: According the regulations of Machupicchu, once we enter the Sacred City it is not allowed to return by the same way because is just a one circuit "there are many signs in which route we must follow during the tour and we can only stop in some places and just walking straight to the exit entrance. For that we advise to you enjoy every minute that you can be in each place.
Very important 2: According the regulations of Machupicchu, the entrance ticket has a time, the first entrance is open at 6:00 am every hour until 4:00 pm and you can use your entrance ticket just one time, in other words, once you leave Machupicchu city, you will not be able to return, unless you obtain a new ticket.
Return to Cusco: you will return to Aguas Calientes by bus (included) and then board the Expedition train at 4:22 pm. to get to the Ollantaytambo train station, where you will meet with our private van and be transferred to your hotel in Cusco, arriving around 8:30 p.m.
---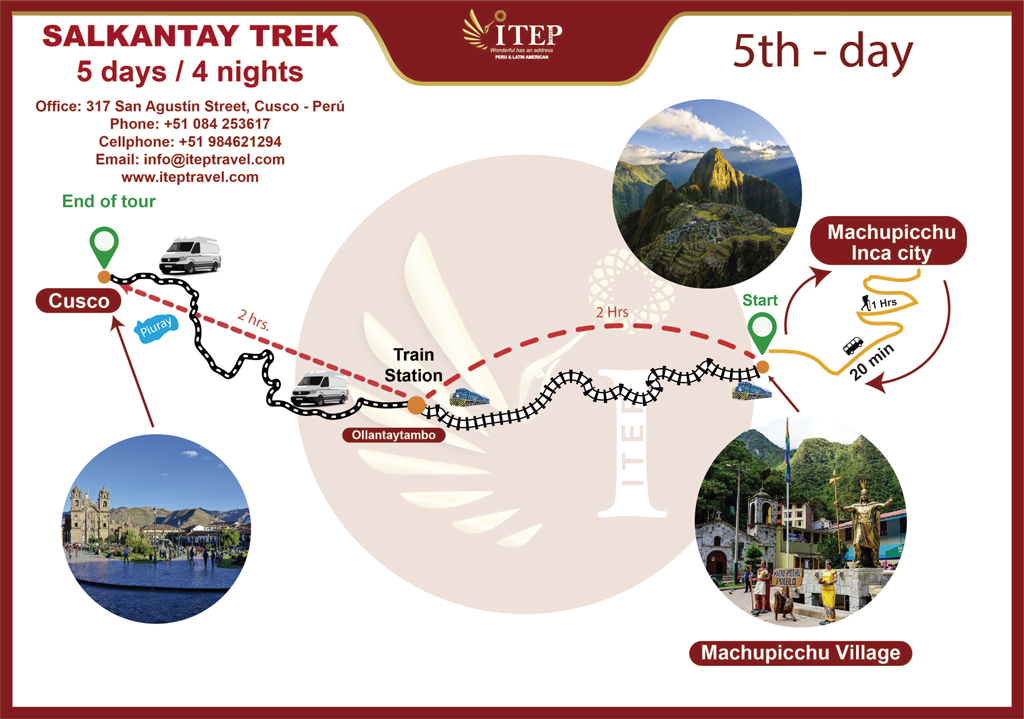 ---
End of our Services
INCLUDES
Pre-departure briefing: You will meet your Salkantay guide and group in our office for an orientation before your trek. At this time, we will provide you with the duffle bags which will be carried by our horses. The meeting will be at 6:00 PM the evening before the trip begins. In case you can't come at this time "please let us know" to coordinate another time.
Touristic Transport: You will be picked up from your hotel in Cusco in the morning and will travel by private transportation to Limatambo, the starting point of the Salkantay trek.
Adventure Experienced Salkantay Tour Guide: English speaking, professionally educated, and official tour guide with tourism certification. They all grew up in this region and have a true passion to teach others about their heritage. Your guide will explain the culture and surroundings along the entire route, including leading your group in ancient ceremonies! He or she will keep you safe, sound, and comfortable on your trek so you can enjoy your time along the Inca path and will ensure you are safe and happy.
Tour Guide in Machupicchu Cultural Experienced: English speaking, professionally educated, and official tour guide with tourism certification. For visit the sacred city of Machupicchu.
Campsites: Each campsite is carefully choosed for have a very local experience.

Night 1: A campsite between the mountains surrounded by the Andes and a view of the valley through which we walked hours ago appreciating a milky way on a dark and wonderful night.
Night 2: An unique camp near the majestic and imposing Salkantay mountain protecting us during a night and full of stars
Night 3: Beautiful camp over one small hill seeing to wakanhuillque mountain protector of Ollantaytambo and the Sacred Valley
Night 4: The 4th night in hotel is not included, which is in the town of Aguas Calientes; it is also known as Machupicchu Village; prices of hotels will vary according to your expectations and budget. However, we can offer you the option of joining us at our local accommodation Hotel Encanto Machupicchu (www.hotel-encanto.com) "at no extra cost". Our hostel in Aguas Calientes have double or triple rooms, private bathroom, hot shower, Wi-Fi, breakfast, and luggage storage while you visit Machu Picchu.
Note: It is not usual that the campsites, lodges or hotels change after the confirmation, however it can vary per government regulations and authorization, also for bad weather conditions and maybe because physical condition of our visitors: Any changes in this matter ITEP travel will be informing you previously and as soon as possible.
Camping equipment: Camping tents, Dining and kitchen tents, tables, chairs, and cooking equipment (all carried by our porters and horses).
Entry ticket to Salkantay
Entry ticket to Machu Picchu Inka Site
1 Duffle Bag: You can put your personal luggage, up to (5 kgs/11.02 lbs.). Including your sleeping bag; this bag will be carried by our horses.
Loading Mules/horses: We will give you a duffel bag at your briefing the night before; to be filled with the things you will need for the next night and day. You will not have access to your duffel bag until you arrive at your evening campsite. On days 1 and 2, our mules/horses carry all camping equipment and your allowance of personal baggage (5 kgs/11.02 lbs.). On days 3 and 4, your luggage will be carried by car or train to your destination until we arrive to Machupicchu.
Professional Trekking Chef: A professional chef specialized in cooking on the trail, with an assistant will prepare all of your delicious meals along our journey on the Trail to replenish your energy every day. You will never go hungry!
Meals: 4 Breakfasts, 4 Lunches, 4 Dinners (Vegetarian, vegan, or special menus are available at no extra cost) Please be in mind (1st breakfast and last lunch is not included"
Boiled Water: Beginning from your first lunch until your last lunch, Inka Trail Expeditions will supply all the water needed. This water will be boiled, filtered and then cooled, before distributing. You must supply your own water bottles or camel back. We recommend carrying about 3L worth. We will refill our waters at each meal.
Wake up tea: Every morning at the campsite, you will wake up with a cup of coca tea! Our staff will bring the tea to your tent so that you will be warmed from inside out before you start your day.
Tea time daily during the Trek: Every afternoon before dinner, the cooks will provide our tea time with popcorn, biscuits, coffee, hot chocolate, teas, hot water, etc. After a long day of hiking, you will not have to wait until dinner to relax, warm up, and enjoy a bite to eat!
Products for hygiene: You will be provided with a small towel before each meal to clean your hands and every morning will be also a bucket with warm water for washes your personal hygiene.
Medical kit and Oxygen bottle: Our crew will bring a first-aid kit, including emergency oxygen bottle.
Train tickets: From Aguas Calientes "Machupicchu village" to Ollantaytambo train station (departure time is confirmed the day of briefing and it´s subject to availability)
Transfer back to Cusco: Touristic transport from Ollantaytambo train station to your hotel in Cusco (Day 5)
24-hour guest service: We have telephone service available 24 hours/day for easy communication and preparation with the agency leading up to your trek.
NOT INCLUDED
Sleeping Bags: You can rent one from our company if you do not have your own. Our sleeping bags are effective and durable to protect from temperatures as low as -18ºC (0ºF). They are mummy form and include a sleeping liner. The bags are cleaned after every use.
Bus Consettur to Machupicchu inca City: Most of the times the wait to board the bus to Machupicchu is from 1 hour to 1:30 min, So we prefer that you decide a day before your visit to the Inca city of Machupicchu. If you wish to take the bus considering the waiting time. Or if you prefer to do the last stretch of ascent walking up 45 to 1 hour "everything will depend on your physical state, after the trekking done".
Walking Sticks: You can rent a set from our company if you would like.
Day 1: Breakfast: Approx. Usd5 to usd 10.00, Price can vary according your selection.
Last Day: Lunch and Dinner in Aguas Calientes. Approx. Usd 20 to 25.00, Price can vary according your selection.
Personal clothing and gear
Travel Insurance
Tips for our staff: Please note that our agency staff is well paid so please feel free to tip or not as you wish "Recommendation usd 6 to usd 8 per day per traveler for all the trek staff"- Once again it is optional and can vary according your satisfaction.
Option: If you feel tired after the trek to and from Llactapata, you have the option to take a train from Hidroelectrica to Aguas Calientes. (Cost: USD $34.00)
Additional costs or delays out of control of the management (landscape, bad weather condition, itinerary modification due to a safety concern, illness, change of government policy, political instability/strike, etc.)