ITINERARY
Day 1: Cusco – Pisac – Urubamba - Ollantaytambo – Aguas Calientes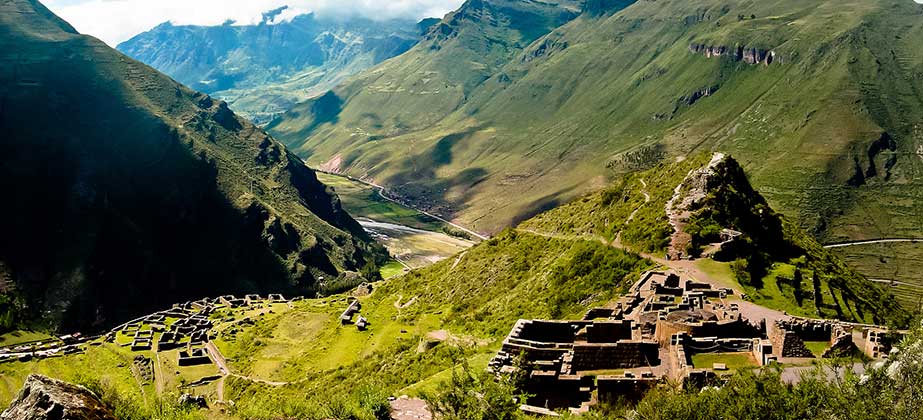 ---
We will pick up you from your hotel at 8:20 am in our touristic bus, and then we will go to visit the Sacred Valley of the Incas and different archaeological zones like: Pisac and Ollantaytambo. We can also visit the typical artesanal markets of the town of Pisac.
The first place you will visit will be the typical local market of Pisac, where you will have the opportunity to appreciate different types of sweaters, scarves, and hats made of alpaca, wool, etc. After this short stop, we will continue to the archaeological site of Pisac. We will have to walk approximately 10 minutes to get there. Here you will have a guided tour for around 1 hour, where we will visit the most important places, like the agriculture place, cemetery of the Incas, the temple of the sun, etc. After visiting Pisac we will continue to Urubamba in our bus and around midday we will stop in a typical restaurant to enjoy our typical Peruvian lunch (buffet).
After our lunch we will drive 30 more minutes to visit the archaeological site of Ollantaytambo. Here you will again discover the magnificence of the Inca constructions and the beauty of the local people in their traditional dress. End of the tour of sacred valley at 15:45 pm.
After of our tour we will drop you at the train station in Ollantaytambo, from where you will take the train at 16:36 pm to Aguas Calientes (Machu Picchu town). You will travel by train approximately one hour and 45 minutes from Ollantaytambo to Aguas Calientes where our transfer will await you to transfer to our hotel (Night in hotel).
(Train from Ollantaytambo to Aguas Calientes is at 16:36 pm, arrival in Aguas Calientes at 18:20 pm).
---
Day 2: Aguas Calientes – Machu Picchu – Cusco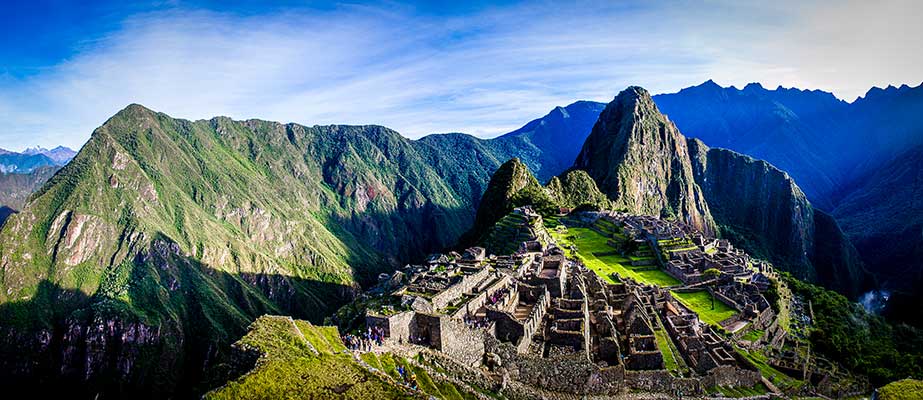 ---
After enjoying your delicious breakfast in the hotel we will visit the Inca citadel of Machu Picchu
Early in the morning we will take the bus from Aguas Calientes to Machu Picchu. This short trip by bus will be approximately 30 minutes along an unpaved road. During the trip by bus you will appreciate the fantastic and beautiful landscapes full of plants and beautiful flowers, and you will also see the Vilcanota River. Then we will visit Machu Picchu with our professional guide who will guide us through the whole Inca citadel of Machu Picchu for approximately 3 hours. Then you will have free time to visit more places in the Inca citadel of Machu Picchu and take the best photos in places that you like.
If would you like to visit Huayna Picchu or Machu Picchu mountain you can go after our guided tour in Machu Picchu if you have an entrance ticket.
Machu Picchu was one of the most important cities of the Incas and you need to stay here more than 5 hour to experience all of Machu Picchu.
After visiting Machu Picchu, we will return to Aguas Calientes in our bus where you can enjoy your delicious lunch. Later you have to return to Ollantaytambo by train, and then travel by bus to Cusco (please you must arrive at the train station 30 minutes before departure time).
Touristic Train, from Aguas Calientes to Ollantaytambo.
Bus, from Ollantaytambo to Cusco.
---
End of our Services
INCLUDES
Tour of the Sacred Valley of the Incas.
Entrance ticket for the Sacred Valley Tour.
Bus and professional guide for the Sacred Valley tour.
Buffet lunch in Urubamba. (Sacred Valley tour)
Round trip train ticket: Ollataytambo – Aguas Calientes – Ollantaytambo.
1 night in hotel in Aguas Calientes with breakfast.
Entrance ticket to the citadel of Machu Picchu.
Bus ticket (consetour) up to and down from Machu Picchu.
Professional tour guide for Machu Picchu (tour in group)
Bus: Transfer from Ollantaytambo to Cusco.
All the information about the tour (one day before).
NOT INCLUDED
Food in Machu Picchu.
Entrance fee to Huayna Picchu more USD $ 75.00.
Entrance fee to Machu Picchu mountain more USD $ 75.00.
YOU NEED
Bottled water.
Video camera or photographic camera.
Sunglasses, sunblock, hat or cap.
Snack.
Light clothing.
Warm clothing.
Bathing suit in case you want to visit the hot springs in Aguas Calientes.
Extra money.