ITINERARY
Day 1: Cusco – Qesuino – Anata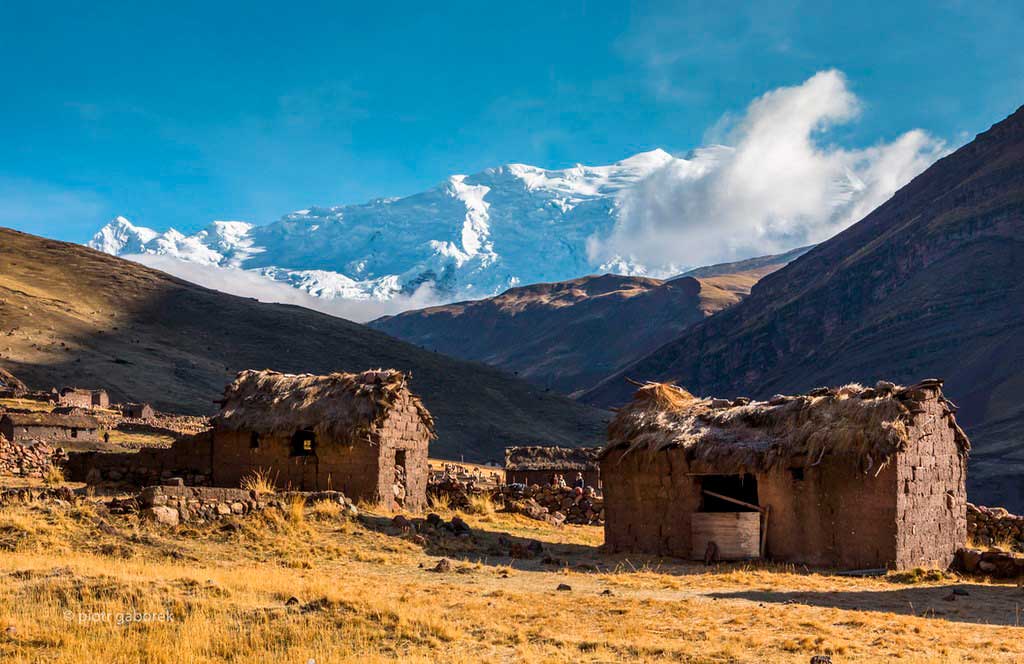 ---
Distance: 14km/ 8.7 miles
Elevation: 4200m-5000m
Hiking time: 5-6 hours
---
At 4:30 am we will pick you up at your hotel and drive 3 hours to Quesiuno. While packing up our gear our chef will be preparing a hot breakfast to get you fueled up for the hike ahead of you. Our guides explain about the itinerary for the day and safety tips to ensure you are fully prepared for the next two days.
The trek begins in a large green valley. You will see hundreds of alpacas, local farmers, and the beautiful Ausangate mountain looming in the distance- this is only a teaser for what is to come on your journey.
As you continue making your way on the trail you will begin to conquer the first pass of the trek Puccacocha pass.
At around 16,000 feet, the pass sits just above Puccacocha lake, and the massive Ausangate mountain is directly in front of you, while a beautiful active glacier crashes into the lake below. After a successful climb we will stop around noon for lunch and to recharge your body for the remainder of the hike.
Our destination for the night is Anata, where we will enjoy a beautiful evening surrounded by jaw dropping landscape in the still of the Andes. As the sun sets, we set up the dining tent with chairs for your group to relax and enjoy conversation while dinner is being prepared. This night you will see an unforgettable night sky full of constellations, shooting stars, and keep yourself warm with coca tea.
Walking Time: Approximately 3 hours (including a lunch in the route)
Walk and Terrain: Walk, canter, on open roads, some steep ascending trails.
---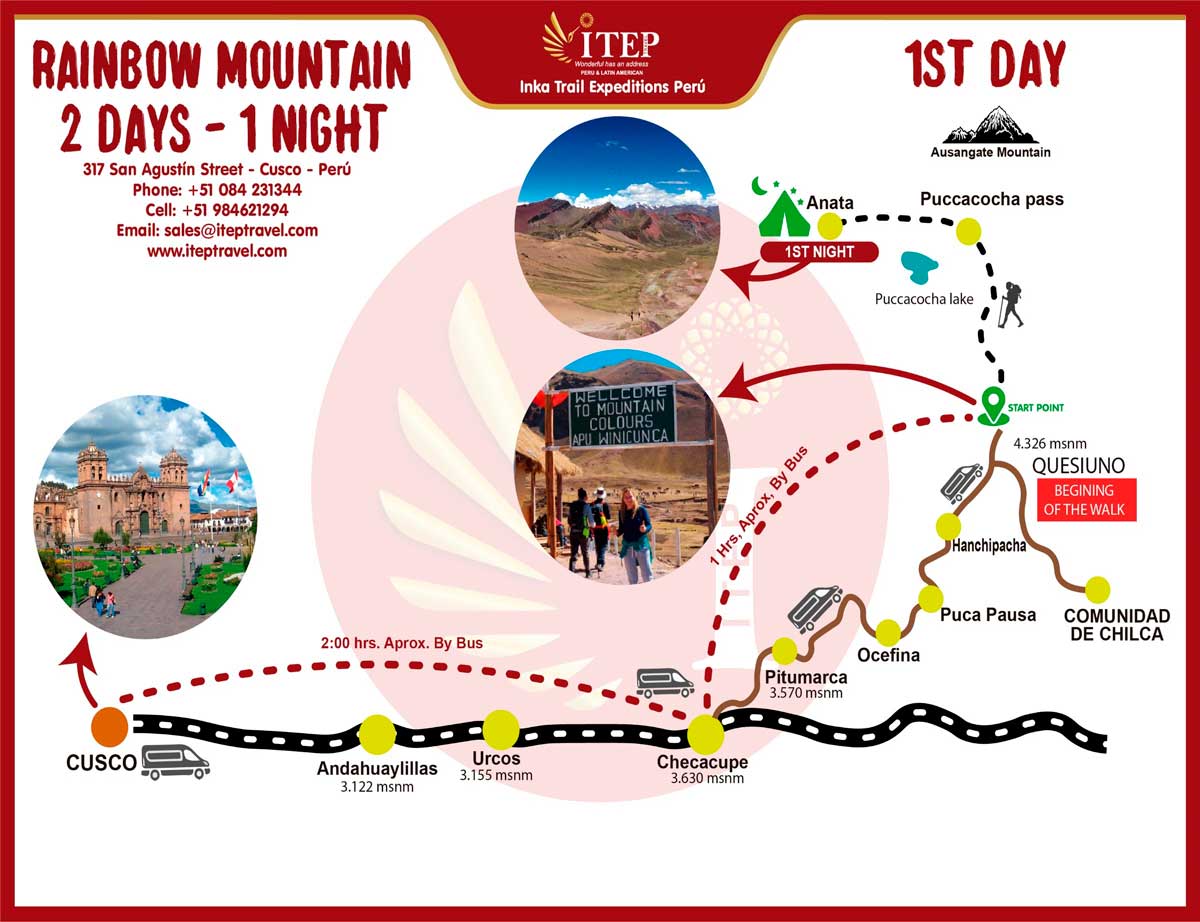 ---
Day 2: Anata – Rainbow Mountain – Cusco.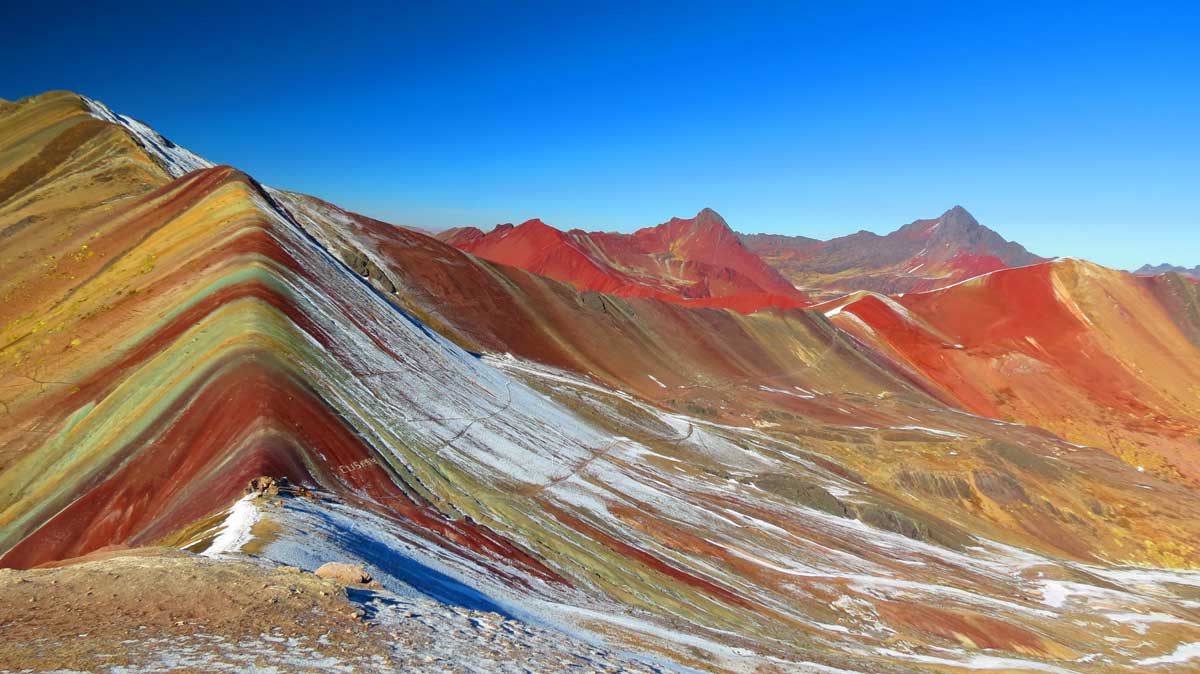 ---
Distance: 18km/ 11 miles
Elevation: 5000m-5200m-4200m
Hiking time: 6-7 hours
---
Today is what you've been waiting for. Your chance to see the beautiful Rainbow Mountain; and the best part, you're almost there. We'll wake you up bright and early (time depends of the weather- usually between 5:00 am and 6:00 am) with coca tea delivered to your tent, and serve you a hearty breakfast to fuel you up for your final climb to Vinicunca (Rainbow Mountain).
Upon arrival you can take all the time you want soaking in the amazing 360-degree vistas of the surrounding lands and explore the mountain itself. Take some time to yourself and really enjoy the beauty of nature around you- it truly is a magical place. The hike down will only take about three hours and here we will celebrate a successful journey, and enjoy lunch before departing back to Cusco (3 hours). Arrival time back in Cusco will depend on how long you want to spend on Rainbow Mountain, but we typically get back around 5:00 pm to 6:00 pm and drop you off at your hotel.
Note: This itinerary is subject to change without prior notice according to weather conditions, strikes, roadblocks, or other events which are beyond our control. We will always do our best to follow the itinerary as closely as possible.
Walking Time: Approximately 3 hours (including a lunch in the route),
Walk and Terrain: Walk, canter, on open roads, some steep ascending trails.
---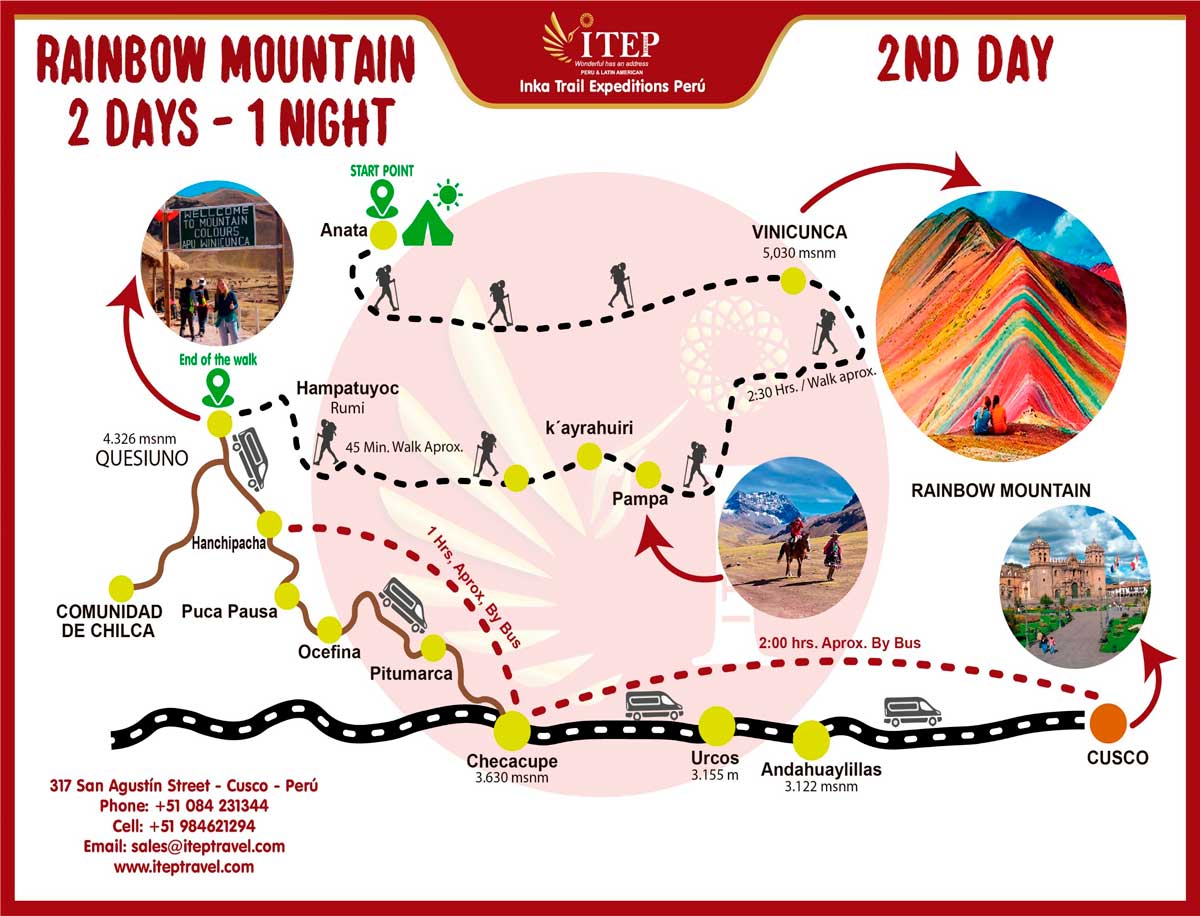 ---
End of our Services
INCLUDES
Pre-departure briefing: You will meet your Vinicunca Rainbow Mountain guide and group in our office for an orientation before your trek. At this time, we will provide you with the duffle bags which will be carried by our Porters. The meeting will be at 6:00 PM the evening before the trip begins. In case you can't come at this time "please let us know" to coordinate another time.
Touristic Transport: You will be picked up from your hotel in Cusco in the morning and will travel by private transportation to Tinki Village the starting point of the trek to the Vinicunca Rainbow Mountain.
Adventure Experienced Vinicunca rainbow Mountain trek Tour Guide: English speaking, professionally educated, and official tour guide with tourism certification. They all grew up in this region and have a true passion to teach others about their heritage. Your guide will explain the culture and surroundings along the entire route, including leading your group in ancient ceremonies! He or she will keep you safe, sound, and comfortable on your trek so that you can enjoy your time along the Inca path and will ensure you are safe and happy.
Private campsites: Each campsite is carefully choosed for having a very local experience.
Night 1: Enjoy the 1st night in Playa Rosalina campsite on the route Choquequiraw trek and sleep in our 4 season Pro Aconcagua Doite tents. All our tents are 4-man tents, but ONLY sleep 2, leaving lots of room to spread out comfortably and store your duffel bags. They also include a little vestibule in front, giving you some extra outdoor space to leave your boots and walking sticks so you don't have to bring in dirt.
Note: It is not usual that the campsites, lodges or hotels change after the confirmation, however it can vary per government regulations and authorization, also for bad weather conditions and maybe because physical condition of our visitors: any changes in this matter ITEP travel will be informing you previously and as soon as possible.
Camping equipment: Dining and kitchen tents, tables, chairs, and cooking equipment (all carried by our porters and horses).
Entry ticket to the Vinicunca Rainbow Mountain trail
1 Duffle Bag: You can put your personal luggage, up to 5 kgs (11.02 lbs.), including your sleeping bag; this bag will be carried by our horses during the 4 days.
Professional Trekking Chef: A professional chef specialized in cooking on the trail, with an assistant, will prepare all of your delicious meals along our journey on the Trail to replenish your energy every day. You will never go hungry!
Meals: 1Breakfast, 1 Lunches, 1 Dinners (Vegetarian, vegan, or special menus are available at no extra cost) Please be in mind (1st breakfast and last lunch is not included"
Boiled Water: Beginning from your first lunch until your last breakfast, Inka Trail Expeditions will supply all the water needed. This water will be boiled, filtered and then cooled, before distributing. You must supply your own water bottles or camel back. We recommend carrying about 3L worth. We will refill our waters at each meal.
Wake up tea: Every morning at the campsite, you will wake up with a cup of coca tea! Our staff will bring the tea to your tent so that you will be warmed from inside out before you start your day.
Tea time daily during the Trek: Every afternoon before dinner, the cooks will provide our tea time with popcorn, biscuits, coffee, hot chocolate, teas, hot water, etc. After a long day of hiking, you will not have to wait until dinner to relax, warm up, and enjoy a bite to eat!
Products for hygiene: You will be provided with a small towel before each meal to clean your hands and every morning will be also a bucket with warm water for washes your personal hygiene.
Medical kit and Oxygen bottle: Our crew will bring a first-aid kit, including emergency oxygen bottle.
Transfer back to Cusco: Private touristic transport from Paqchanta Village to your hotel in Cusco (Day 2)
24-hour guest service: We have telephone service available 24 hours/day for ease of communication and preparation with the agency leading up to your trek.
NOT INCLUDED
Sleeping Bags: You can rent one from our company if you do not have your own. Our sleeping bags are effective and durable to protect from temperatures as low as -18ºC (0ºF). They are mummy form and include a sleeping liner. The bags are cleaned after every use.
Walking Sticks: You can rent a set from our company if you would like.
Day 1: Breakfast: Approx. Usd5 to usd 10.00, Price can vary according your selection.
Last Day: Lunch and Dinner in Aguas Calientes. Approx. Usd 20 to 25.00, Price can vary according your selection.
Personal clothing and gear
Travel Insurance
Tips for our staff: Please note that our agency staff is well paid so please feel free to tip or not as you wish "Recommendation: Take with you usd 6 to usd 8 per day per traveler for all the trek staff"- Once again it is optional and can vary according your satisfaction.
Additional costs or delays out of control of the management (landscape, bad weather condition, itinerary modification due to a safety concern, illness, change of government policy, political instability/strike, etc.)
YOU NEED
Original Passport
Day Pack
Full rain gear or poncho
Gloves (thin riding and warm gloves)
Trekking pants
Breathable dry fit top-wear
Headlamp
Sunglasses
Hiking socks
Sunscreen
Insect repellent
Bathing suit
Comfortable shoes/flip-flops
Cold-weather jacket
Long-sleeve fleece/sweater Wool hat
Hiking boots
Baseball cap, sombrero and bandana
Casual mountains wear for evenings
Photo/video cameras and chargers
Binoculars
Refillable water bottle (hydration bags are recommended)