ITINERARY
Day 1: Trekking "Km 104, Chachabamba to Inti punku, Sun Gate"
---
Walking Distance – 16kms/10 miles
Starting Elevation – 2100 meters ASL / 6889feet ASL
Highest Elevation – 2700 meters ASL / 8858 feet ASL
Campsite Elevation
Difficulty: Easy/Moderate.
Meals:box lunch
Accommodation: Hotel
---
Today Our trek takes us along the most impressive stretch of the Inca Trail. We'll visit beautiful Inca sites , see a variety of flora and fauna and get to take in the fantastic panoramas of the Andes mountains. Covering 16km of the trail our journey begins in the Sacred Valley and works it's way up along an original Inca Trail to the Inca site of Winay Wayna before continuing on to Machu Picchu via the Sun Gate (Inti Punku).
As we make our way to Machu Picchu we'll pass through the lush and verdant cloud forest that covers the mountain and get to see a variety of plants, flowers and birds along the way. We may also see some larger mammals such as Viscachas (rabbit-like Chinchillas) and Spectacled Bears (if we are very lucky).
After a full days trekking we'll arrive to the Sun Gate (Inti Punku) in the late afternoon and get our first views of Machu Picchu spread out on the mountain below. The light at this time of day is great for photos and with fewer tourists in the site it's a perfect time to take some pictures of the site. After we've passed through the Sun Gate we'll carry on along the trail a little way before taking a side trail that leads us to Aguas Calientes in the valley below where we'll check in to our hotel.
---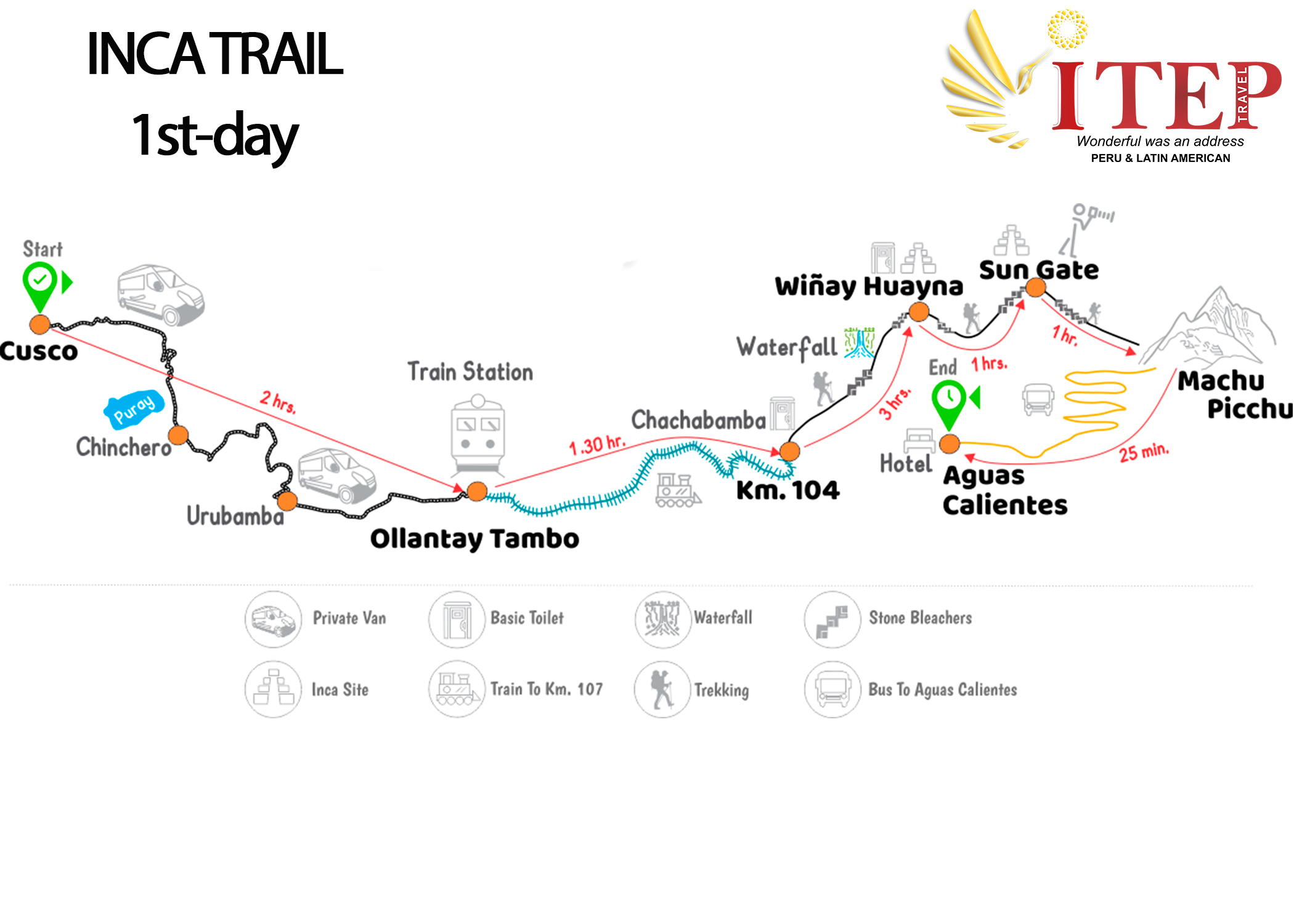 ---
Day 2: Aguas Calientes - Machu Picchu, Perú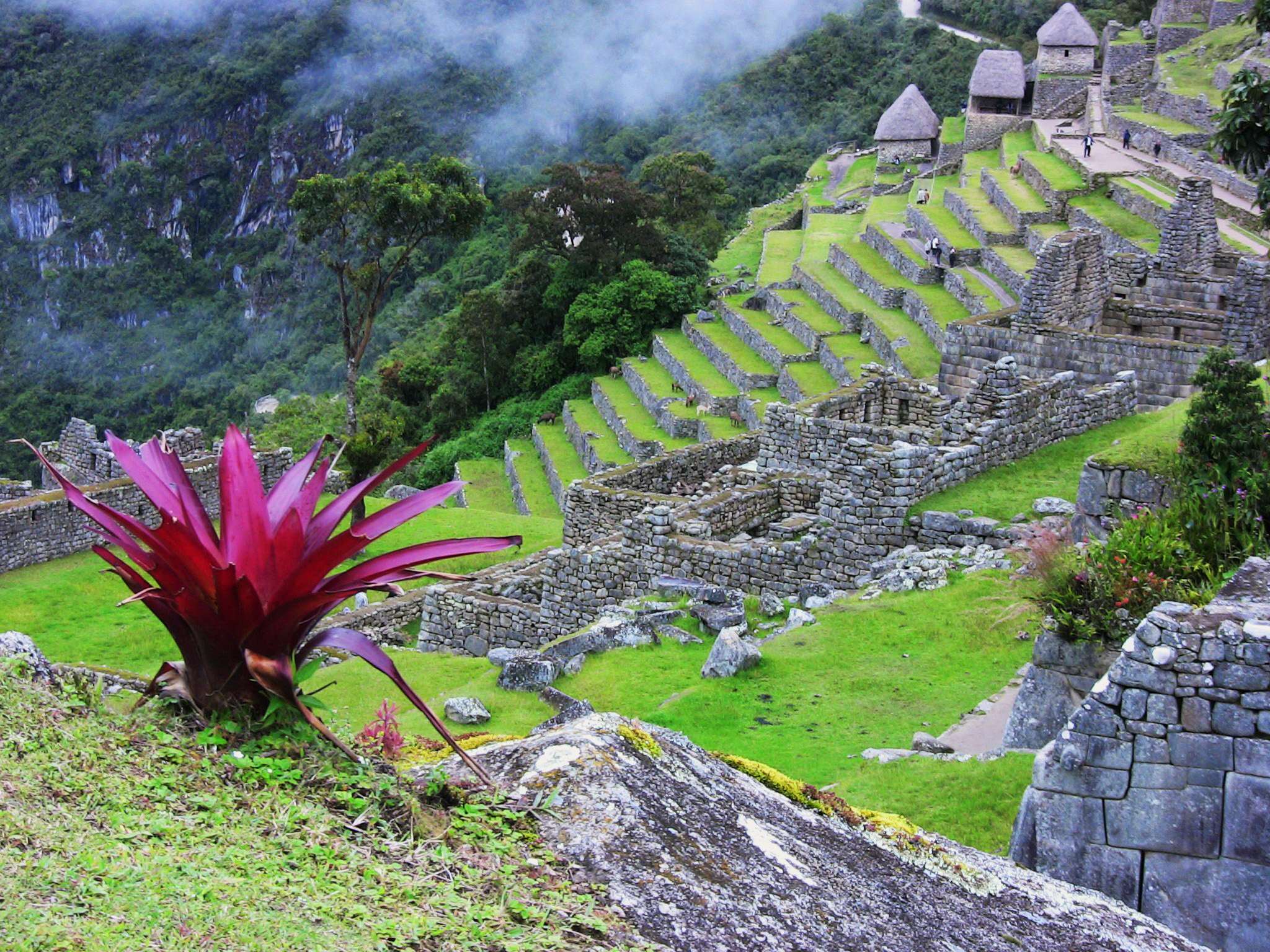 ---
Walking Distance –
Starting Elevation – 2000 meters ASL / 6561feet ASL
Highest Elevation – 2400 meters ASL / 7874 feet ASL
Campsite Elevation –
Difficulty: Easy
Meals: Breakfast
Accommodation: Hotel
---
Waking up early (04:00am) we'll take one of the first buses back up to Machu Picchu to enter the site as soon as it opens (06:00am) We'll have a 2 hour guided tour of the site during which you'll learn about the Incas and visit all the most important areas of the citadel. After your tour you'll have free time to explore the site by yourself and if you have permits to climb either Huayna Picchu (2 hours round trip) or Machu Picchu mountain (3 hours round trip).
---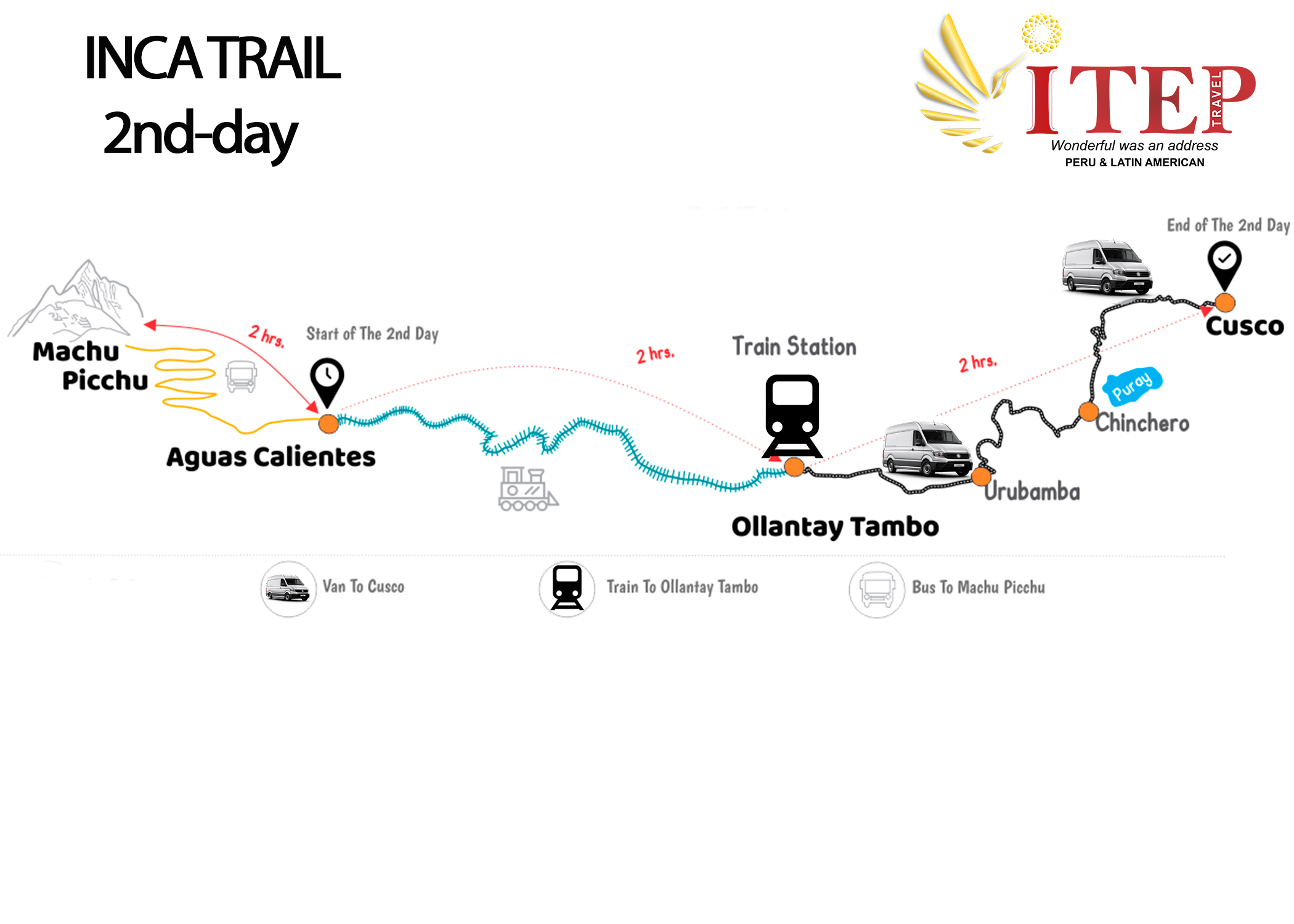 ---
Day 3: Aguas Calientes - Machu Picchu, Huayna Picchu Mountain or Machu Picchu Mountain, Cusco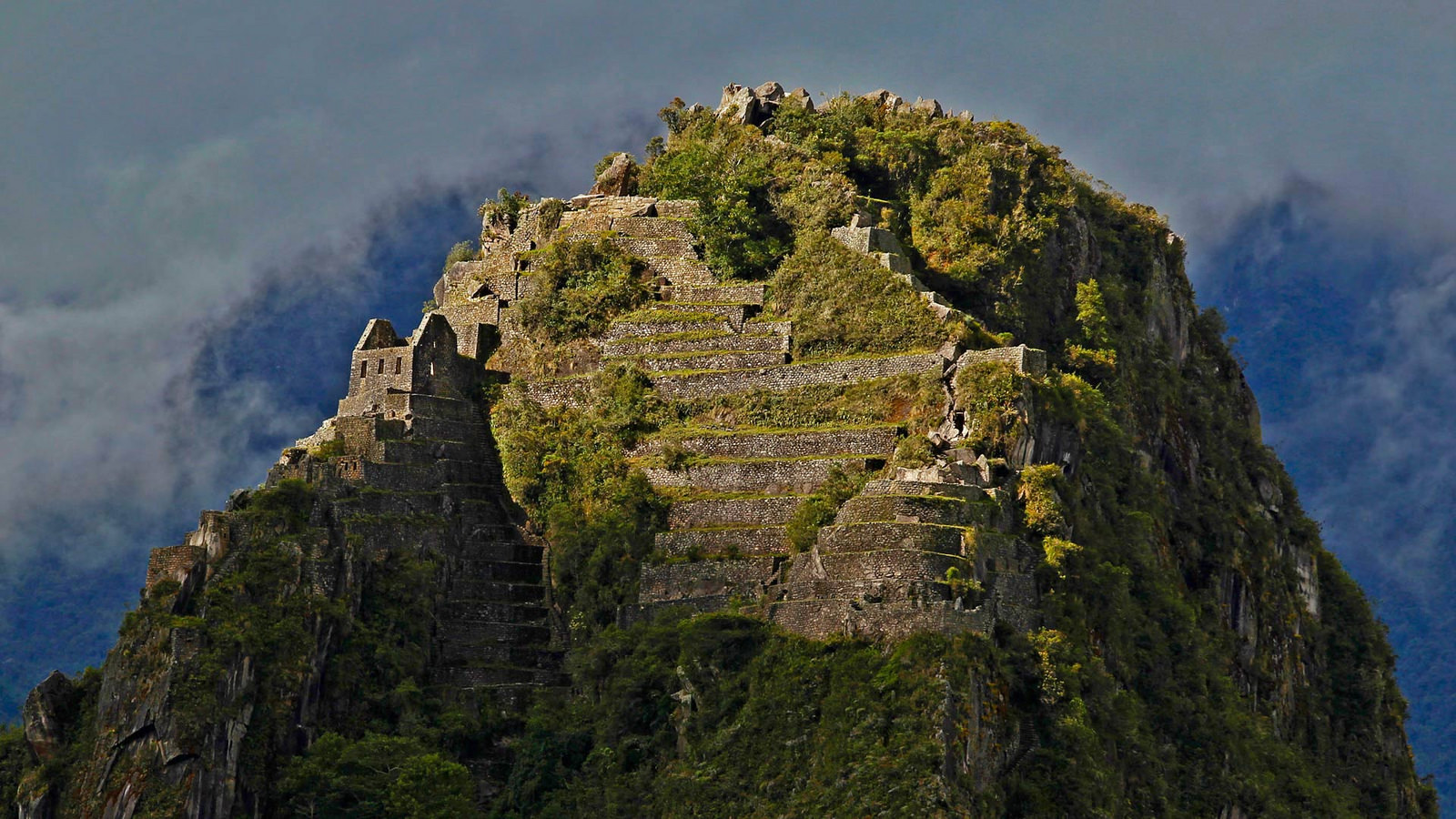 ---
Walking Distance – 2.5km / 1553.50miles
Starting Elevation – 2400 meters ASL / 7874.016 feet ASL
Highest Elevation – 2700 meters ASL / 8858.268 feet ASL
Campsite Elevation –
Difficulty: Easy
Meals: Breakfast
Accommodation: Hotel
---
Huayna Picchu is one of the mountains that stands next to Machu Picchu and has amazing views from above. This hike is done after your tour with us and takes 45 minutes to the top and 45 minutes back down. Allow for time to take lots of photos, because the views are incredible
The Huayna Picchu Mountain is the one that you see behind Machu Picchu on any postcard; its Incan paths hidden alongside the mountain, it may frighten those of you who have a fear of heights. For those of you who struggle with heights you may need to know that you will be steps away from hundred foot plummets into an abyss, and in some places the path can be very steep and narrow. There are times when you need to use security cables to support yourself; it is a challenge for anyone. If you suffer from vertigo or you have a hard time controlling your fear of heights we would recommend taking a different route.
You will have to place reservations 6 months before if you would like one of the 400 available tickets to go up to the Huayna Picchu Mountain.
Machu Picchu Mountain is an unforgettable and lesser-known hike above the Machu Picchu ruins with stunning panoramic view of the valley. Reaching ruins is only one part of the Machu Picchu experience. The other one is climbing the summit of Machu Picchu Mountain at 3,050 meters above sea level for dramatic views of the ruins and lush mountains separated by deep valleys and Urubamba River. As spectacular as seeing Machu Picchu is, the ruins of lost Incan city tell very little if you don't see them in a perspective with the surrounding mountains. It's when you can appreciate the enormous effort of Incas for building a city 2,430 meters above sea level without any use of metal tools or the wheel. Why the city was initially built still remains a mystery.
---
End of our Services
INCLUDES
personalized assistance

A private, hand-crafted and fully personalized assistance and itinerary from start to finish.For an authentic experience, our assistance is personalized, 24 hours a day

Sustainable tourism encompasses responsible practices for recreation:

Conservation of biological and cultural diversity,Sustainable use of ecological resources (should have a minimal impact),Support for local economies through increased local revenue, jobs for local populations, and use of local supplies and services thus helping communities to rise their standards of life.Community empowerment by sharing participation in management local ecotourism activities.Increased environmental and cultural awareness which further encourages the local population to preserve its environment.Minimal environmental tourist industry impact on local resources.

Transfer from the airport to your hotel (Cusco only)

Please send us your flight information.

Briefing of your Tour

At our office or your Hotel; It will be done the same day of your arrival or day according your request

Pick up at your hotel

To begin your Experience from Cusco to Train station (Ollantaytambo)

Private transport

All ourTransports has Tourism Authorization , and we offer only private transfers

Train Experience

The train cars are steeped in the designs of Incan culture, making them the perfect way to start your trip in the unbelievable Andean scenery and take incredible panoramic pictures of a journey unlike any other.

Processing of tourism attraction authorizations

As soon as we receive your details and a deposit, we will purchase your permits (pending availability, check our Inca Trail Availability link). These permits are for a specific date and in your name. They can't be changed, once confirmed. Only your passport number is allowed to be updated. The permit includes an entrance to Machu Picchu.

All entrance fees

Admission Tickets to the Classic Inca trail & Machu Picchu Archaeological Complex

Classic Inca Trail visit

Only 250 spaces per day according regulations of Ministry of Culture of Peru

Sun Gate visit

The Sun Gate also called Intipunku in Quechua was once a guardhouse that marked one of the most important entrances to Machu Picchu.

Machupicchu sunset "1st impresion"

Some photographers also say that the light before sunset, between 4 p.m. and 5 p.m., is the best for photographing Machu Picchu.

Machupicchu sunrise "1st on the Santuary"

"Sunrise over Machu Picchu" is such an evocative phrase that it's no surprise that so many travelers are seduced by its promise.

Private porter to carry personal stuff:

We include a personal porter, who is responsible for carrying your duffel bag. There is no additional fee for this. .It means you will need only a day backpack to carry what you will need during day!

All meals cooked on the spot with fresh ingredients by our Choosed Top restaurant

Meals as indicated in the itinerary (optional vegetarian diets or other dietary needs upon prior request)

1 Breakfast, 1 Lunch, 1 Dinner

You will enjoy breakfast, lunch and dinner each day of the trek, along with a happy hour of tea and snacks. You will also be provided a snack each morning, for you to enjoy along the hike. Your last meal with your chef will be after breakfast on day four. Lunch the last day is not included.

Drinkable Water

Beginning from your first lunch until your last breakfast, We will supply all the water needed. This water will be boiled, filtered and then cooled, before distributing. You must supply your own water bottles or camel back. We recommend carrying about 3L worth. We will refill our waters at each meal.

Santuary Lodge Restaurant

Last Buffet lunch at Sanctuary Lodge "Exclusive and unique restaurant in Machupicchu" Last day of the trek

Professional English speaking guides experienced in the mountains & knowledgeable of Inca History

Professional Guides
All of our guides studied English and tourism at Cusco National University. They all grew up in this region and have a true passion to teach others about their heritage. They are fun yet professional and will ensure you are safe and happy.

Machupicchu Tour Guide

2 Hour Guided tour in Machu Picchu

First-aid kit including emergency oxygen tank

Our Inca Trail guides has received training in first aid from a physician. We conduct mandatory training sessions every February, which every single tour guide must attend. Your tour guide will always have a first-aid kit for basic medical problems (traveler's diarrhea, cuts, scrapes, etc.) and oxygen. We will get you off the trail as quickly and comfortably as possible, if needed, and ensure you get directly to a clinic for treatment.

Satellite Phones


Our top priority will always be the safety of our clients and our team. While we are prepared and all our guides are trained for most of the issues clients have on the mountain, being a phone call away from any doctor, hospital or friend helps everyone feel assured that they are safe. Radios, which all our guides have, are limited in how far they can reach, so our Operation department has added Satellite Phones to every trek. Every guide will have a fully charged phone that can be used anywhere on the mountain to connect us with our Office.

Bus ticket from Machu Picchu ruins to Aguas Calientes (01 way). 1st Day

After a day Trek and an amazing Sunset Machupicchu experience; we just want to relax and enjoy our friends; So We don´t trek more.

Bus ticket from Machu Picchu(02 ways) 2nd day

Let´s emjoy Machupicchu Sunrise

Inka Massage Session in Machupicchu Village.

Transfer Back to your Hotel

Overland private transfer from Train station to your Hotel " for clients only"

Huayna Picchu Mountain

The mountain Huayna Picchu is the one that appears behind Machu Picchu in its classic postal photo; Their Inca trails built on one side of the mountain can be terrifying for people afraid of heights

Extras

We believe it's the attention to small details that separates us from other tour companies. Every trekker receives a small pillow to sleep with, a foam mattress for insulation, a day pack cover to protect their things while hiking and a rain poncho. We will work hard to create your best vacation.

Give back to Andean communities ."You give an automatic donation of usd 10 for the Inka Foundation"

Seize the opportunity to travel and give back to communities or environments in need. With Us, you'll become part of our ongoing efforts to support long-term solutions to specific challenges. At the same time, you can explore and experience the culture in your free time. We're looking for volunteers (Spanish speakers) who can help teachers in a child school for children mentally disabled and other disabilities "Only from Monday to Friday" from 9am until 12:30pm "only by days. www.inka-foundation.org , if you want more information please send us an e-mail.

Peruvian taxes

The money you pay in taxes goes to many places. In addition to paying the salaries of government workers, your tax dollars also help to support common resources, such as police and firefighters.Tax money helps to ensure the roads you travel on are safe and well-maintained. Taxes fund public libraries and parks. Peruvian VAT tax stands at 18%.
NOT INCLUDED
| | |
| --- | --- |
| Hotel in Machupicchu | Hotel in Cusco or Machupicchu is not Included; You can book it online or we can give you some recomendations. There are many options, and the prices will vary according your Expectations. |
YOU NEED
Limited Spaces: YES. To protect the historical trail of the Inkas, the number of people allowed to hike the Inca Trail each day is limited to 250. That is why, you should reserve your space as soon as possible. Spaces can be filled up three to six months in advance. Spaces fill more quickly in the high tourist season, from May to September.
You Book, You Go…Don't Worry… We Won't Cancel: While other tour companies generally cancel their trips due to low participation of travelers or pass their travelers to other big groups tour operators, we guarantee that we will never cancel a trip because of low signing-up or participation for the departure date neither get our travelers to other tour operators! This makes to our travelers the assurance and peace of mind to know their travel plans are insured and guaranteed.
Original Passport
Day Pack
Full rain gear or poncho
Gloves (thin riding and warm gloves)
Trekking pants
Breathable dry fit top-wear
Comfortable shoes/flip-flops
Cold-weather jacket
Long-sleeve fleece/sweater
Wool hat
Hiking boots
Baseball cap, sombrero and bandana
Headlamp
Sunglasses
Hiking socks
Sunscreen
Bathing suit
Casual Mountain wear for evenings
Photo/video cameras and chargers
Binoculars
Refillable water bottle (hydration bags are recommended)