ITINERARY
Day 1: Arequipa, Cabanaconde. Sangalle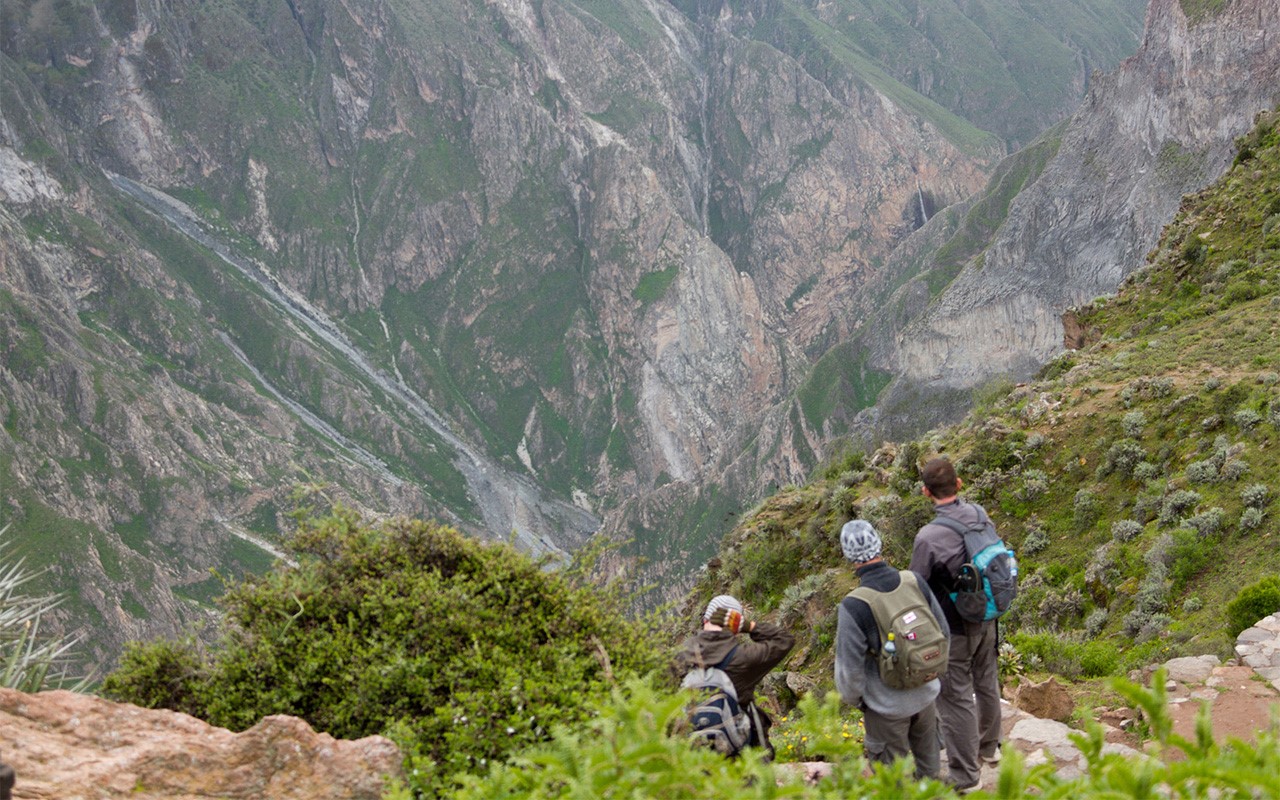 ---
Maximum Altitude: 3,287mts
Distance Travelled: 6-8 kms
Approximate Walking Time: 3-4 hours
Accommodation: Hotel Calibri -Private room with bathroom and shower.
---
Between 03:00 am and 03:30 am, we depart to Cabanaconde in the Colca Canyon, which is about 6 hours drive from Arequipa. On the way we stop for breakfast and later we continue to La Cruz del Condor which is the best place to watch the Canyon and the famous Andean Condor birds. From here, we continue another 20 minutes by bus to start our trek downhill. We will trek downhill for approximately 3 ½ hours from 3300 meters to 2100 meters into the Canyon.
Upon arrival, we will have lunch and some time to rest in San Juan de Chuccho, a village with vegetation and some fruit trees. From there, we continue to the small towns of Cosñirhua and Malata. Then we will start hiking even further into the Canyon, this time into the deepest part of our trek to reach "Sangalle" a village with an altitude of approximately 1900 meters. Here you can enjoy the warm swimming pool to relax after long days hiking. We will arrive to Sangalle at approximately 17:00 pm. At night, we will have dinner and sleep in bungalows that are near the oasis.
---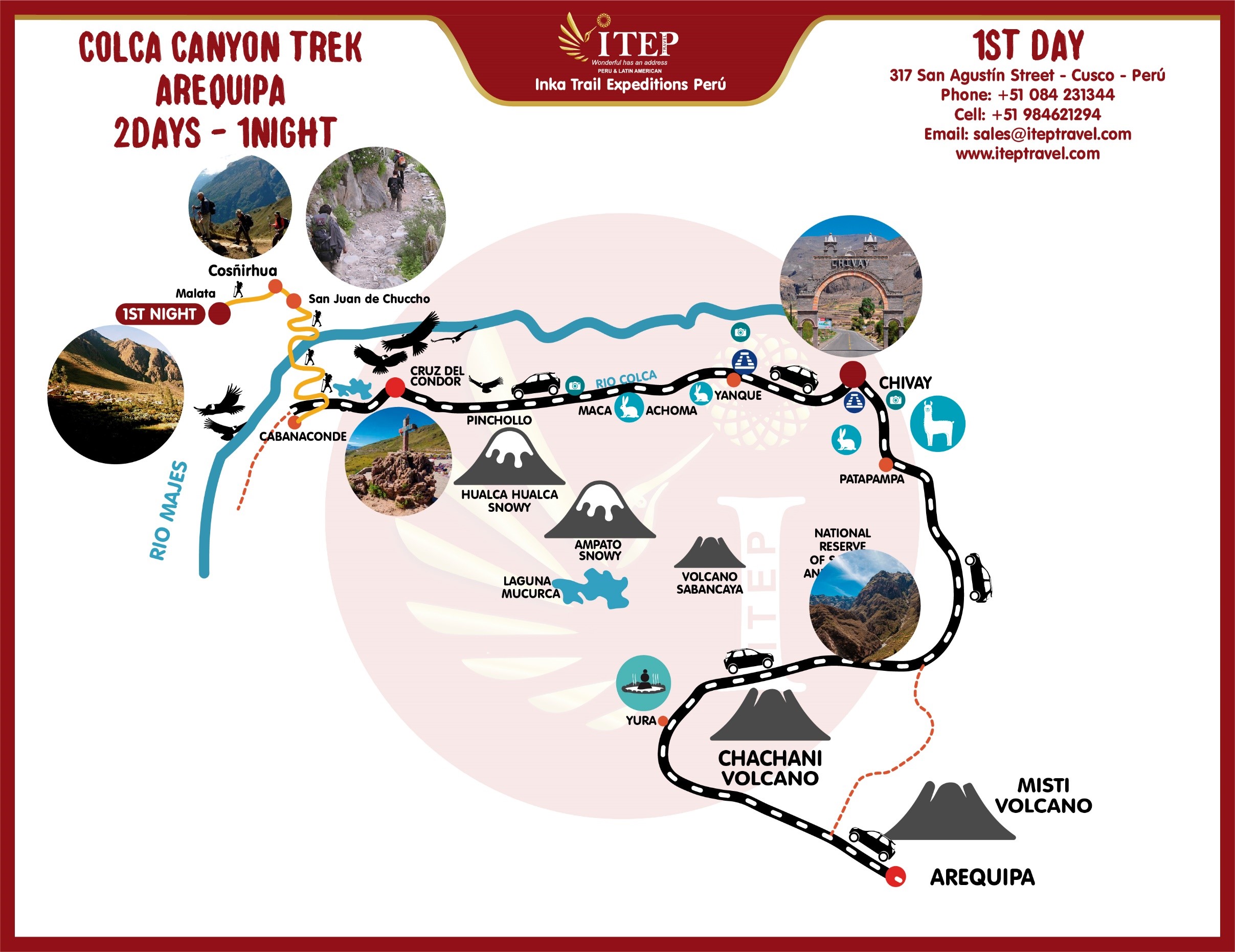 ---
Day 2: Sangalle (Oasis) - Chivay - Arequipa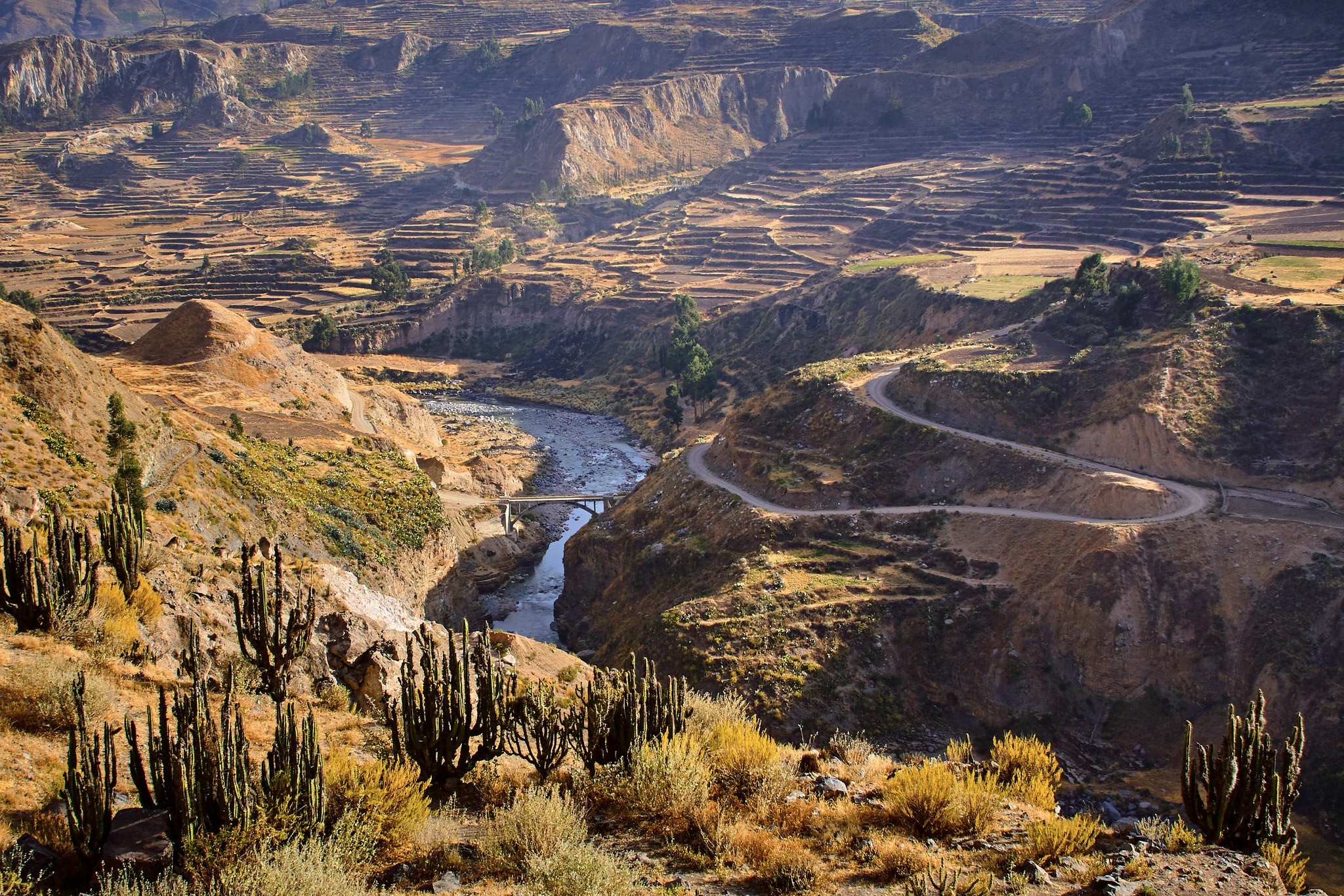 ---
Maximum Altitude: 2,900 mts
Distance Travelled: 6-8 kms
Approximate Walking Time: 3-4 hours
Accommodation: Hotel Tropical -Private room with bathroom and shower.
---
At 4.00am we start our 3 hours walk out of the canyon. Once in Cabanaconde we will have breakfast at (7:45) and then head off for the Cruz del condor. We will stay for approx. 1 hour here, to be able to appreciate the majestic flight of the Andean Condor.
Then we will continue until arrive at Chivay where we will be at 10:30 am. Once there we will have the opportunity to visit the thermal baths of medicinal water with a temperature of 35 to 40ºC and opportunity for lunch in Chivay. At approx. 1.30pm we will return to Arequipa arriving approx. 17:00 pm. Transfer to your hotel.
---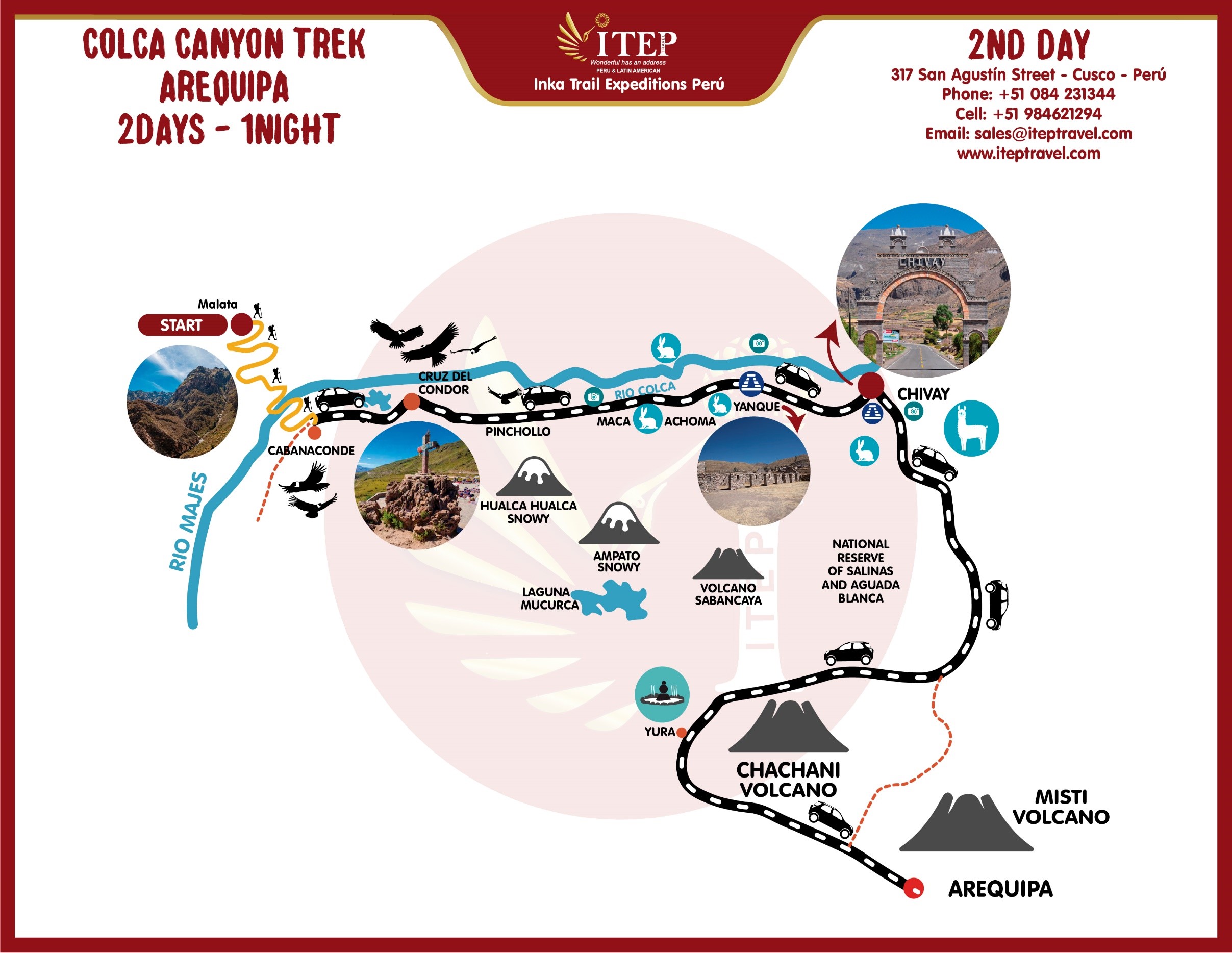 ---
End of our Services
INCLUDES
Pre-departure briefing: You will meet your Colca canyon trek guide and group in our office for an orientation before your trek. At this time, we will provide you with the duffle bags which will be carried by our Porters. The meeting will be at 6:00 PM the evening before the trip begins. In case you can't come at this time "please let us know" to coordinate another time.
Touristic Transport: You will be picked up from your hotel in Cusco in the morning and will travel by private transportation to Cabanaconde Village the starting point of the trek to Colca Canyon trek.
Adventure Experienced Colca Canyon Tour Guide: English speaking, professionally educated, and official tour guide with tourism certification. They all grew up in this region and have a true passion to teach others about their heritage. Your guide will explain the culture and surroundings along the entire route, including leading your group in ancient ceremonies! He or she will keep you safe, sound, and comfortable on your trek so that you can enjoy your time along the Inca path and will ensure you are safe and happy.
Private campsites: Each campsite is carefully choosed for having a very local experience.
Night 1: the 1st night will be in a local family lodging in Sangalle village, the local lodging has the basic services such as private bathroom and shower with hot water.
Note: It is not usual that the campsites, lodges or hotels change after the confirmation, however it can vary per government regulations and authorization, also for bad weather conditions and maybe because physical condition of our visitors: any changes in this matter ITEP travel will be informing you previously and as soon as possible.
Camping equipment: Dining and kitchen tents, tables, chairs, and cooking equipment (all carried by our porters and horses).
Entry ticket to Colca Canyon Trek
Meals: 1 Breakfast, 1 Lunch, 1 Dinner (Vegetarian, vegan, or special menus are available at no extra cost) Please be in mind (1st breakfast and last lunch is not included"
Medical kit and Oxygen bottle: Our crew will bring a first-aid kit, including emergency oxygen bottle.
Transfer back: From Chivay village to Arequipa City. Optional you can take a bus connection to Puno.
Transfer back to Arequipa: Private touristic transport to Arequipa (Day 2)
24-hour guest service: We have telephone service available 24 hours/day for easy communication and preparation with the agency leading up to your trek.
NOT INCLUDED
Walking Sticks: If you prefer you can rent a set from our company.
Day 1: Breakfast: Approx. Usd5 to usd 10.00, Price can vary according your selection.
Last Day: Lunch and Dinner in Chivay. Approx. Usd 20 to 25.00, Price can vary according your selection.
Personal clothing and gear
Travel Insurance
Tips for our staff: Please note that our agency staff is well paid so please feel free to tip or not as you wish "Recommendation take with you usd 6 to usd 8 per day per traveler for all the trek staff"- Once again it is optional and can vary according your satisfaction.
Additional costs: In delays out of control of the management (landscape, bad weather condition, itinerary modification due to a safety concern, illness, change of government policy, political instability/strike, etc.)
YOU NEED
Original Passport
Day Pack
Full rain gear or poncho
Gloves (thin riding and warm gloves)
Trekking pants
Breathable dry fit top-wear
Headlamp
Sunglasses
Hiking socks
Sunscreen
Insect repellent
Bathing suit
Comfortable shoes/flip-flops
Cold-weather jacket
Long-sleeve fleece/sweater Wool hat
Hiking boots
Baseball cap, sombrero and bandana
Casual mountains wear for evenings
Photo/video cameras and chargers
Binoculars
Refillable water bottle (hydration bags are recommended)