ITINERARY
Day 1: Cusco – Abra Málaga – Santa María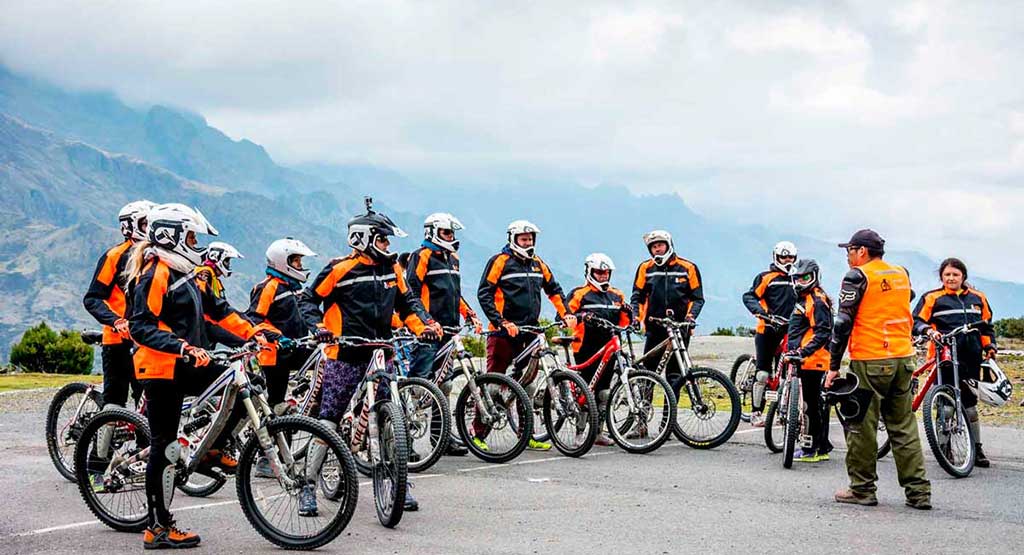 ---
Biking time: 3.5 hour approximately.
Meals: Lunch, and Dinner
Difficulty: Moderate
---
Pick up time is 5:30 a.m. from your hotel.
We will leave the Imperial City of Cusco and head towards the Sacred Valley of the Incas. It is here that we will have the chance to have the breakfast if you didn't have it in Cusco. We will continue to Abra Málaga (4 350 meters) (14 160 ft.), the starting point of our biking tour. After a short explanation to help orientate you, your guide will provide you with the necessary equipment for the activity.
We will begin our 3-hours, bicycle descent 55km (34.18 miles) until we reach the town of Huamanmarca. During the trip we will experience the beauty of the snow-capped mountains and the tropical forest. Is here in the tropical forest that our Peruvian Amazon adventure begins. We will cross small streams and we will enjoy the change from cold to a tropical climate. During the journey we will stop several times to review bicycles and equipment.
We will arrive at the town of Santa María (1 200 masl) (3,937.01 ft.), where we will have our lunch and stay for our first night in a hotel. In the afternoon we have the option of rafting on the Vilcanota River. This river offers category III and V + rapids. For this activity we will give you helmets, windbreaks and category V life jackets. This activity is available between the months of April to December, and you must be able to swim to participate in accordance with Peruvian law.
That is our first day of Inca jungle trail to Machu Picchu.
---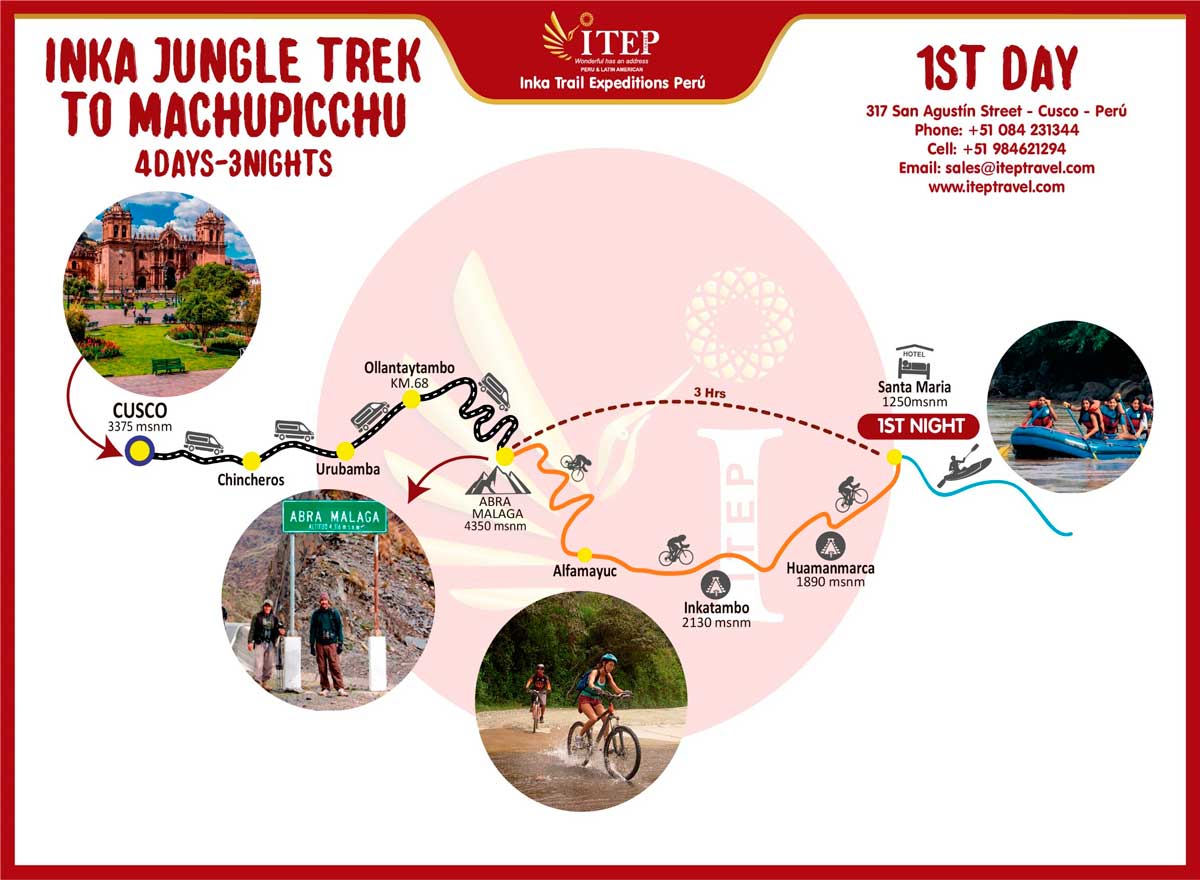 ---
Day 2: Santa Maria - Inca Trail – Cocalmayo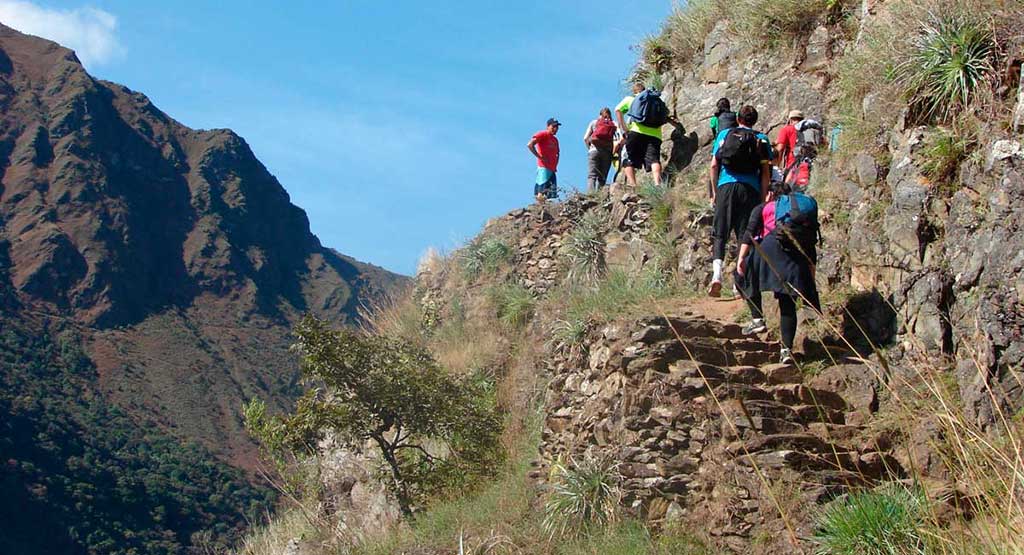 ---
Trekking Time: Approximately 9 hours (including picnic lunch in the route), and 2 hours for the lunch time.
Walk and Terrain: Walk, on mostly steep trails, and some open slopes.
Distance: 12km.
Meals: Lunch, Breakfast, and Dinner
Difficulty: Difficult.
---
After a delicious breakfast, we will be ready to make the first day of trekking to Santa Teresa. The first two hours of our tour we will ascend the terrain. On the way we will have several stops to learn a little more about the richness in flora and fauna of the area in which we will find ourselves.
We will also stop at the home of a local family, where we will learn about their customs and traditions. Later we will cross a section of the Inca Trail that formerly connected the Sacred City of the citadel Machu Picchu to the last Inca refuge, Vilcabamba. Here our guide will explain a little more about the history of the Incas and also the Incan communication system (the route of the Incas).
At this point we have the pleasure of experiencing some of the most impressive views of the Huancarccasa canyon, the majestic Salkantay.
We will then descend to the town of Quellomayo, where we will enjoy a delicious lunch and a relaxing rest in the hammocks of the restaurant. We will continue with the last two hours of our hike to arrive at the thermal baths of Cocalmayo, where we will spend a while enjoying this enchanting place.
When the whole group is ready, our transport will take you to the town of Santa Teresa, where we will spend our second night.
---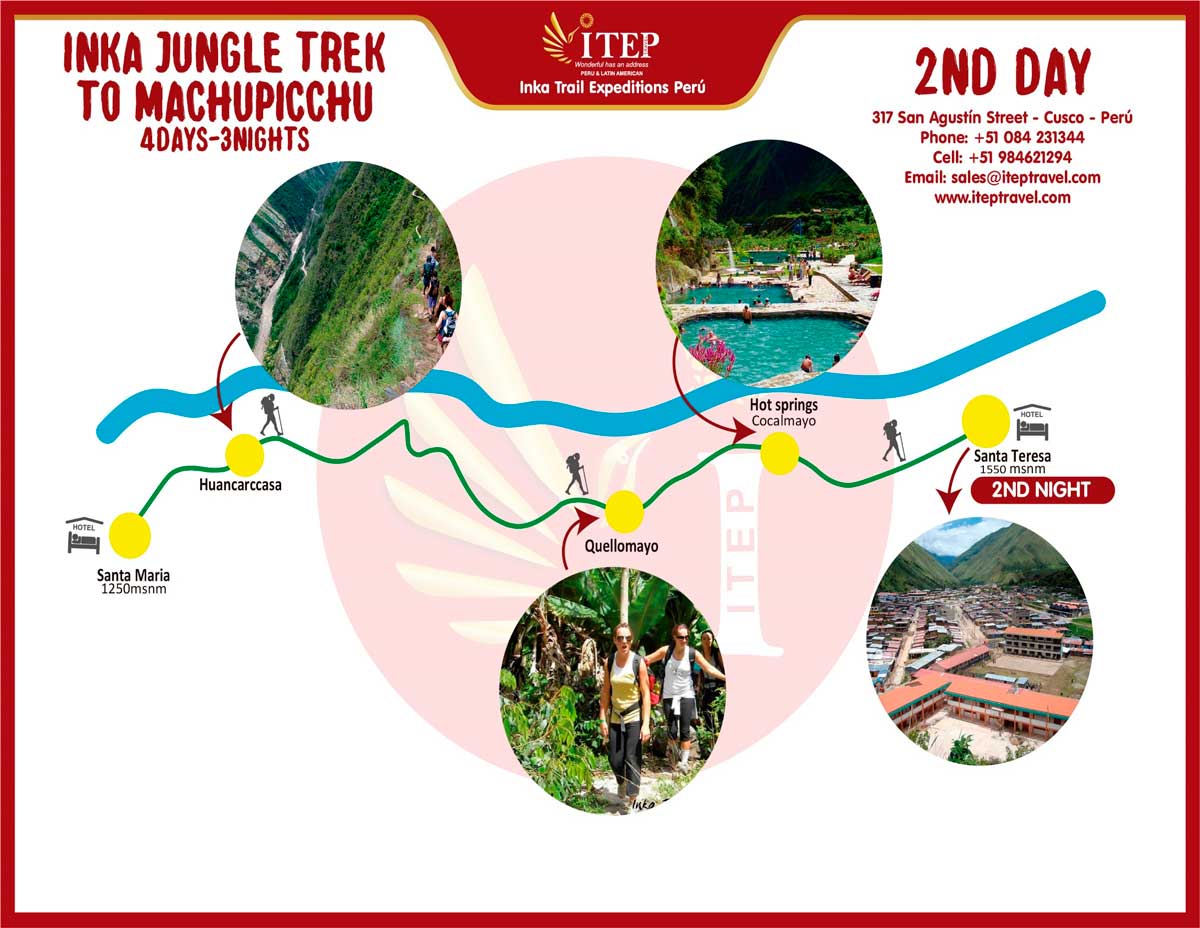 ---
Day 3: Trekking from Lucmabamba- Llactapata Inca trail to Aguas Calientes: 18 Km "Moderate Day"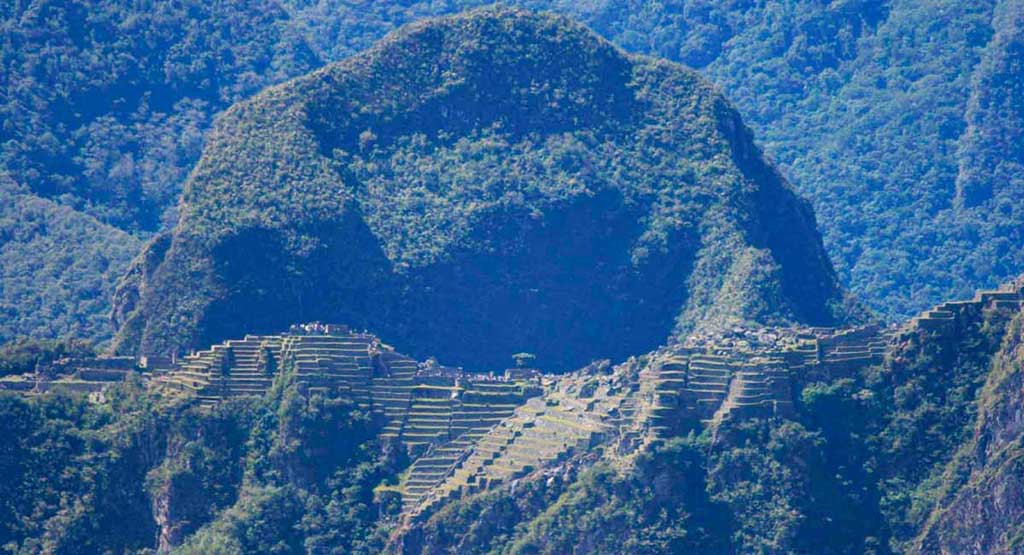 ---
Trekking Time: Approximately 9 hours (including picnic lunch in the route), and 2 hours for the lunch time.
Walk and Terrain: Walk, on mostly steep trails, and some open slopes.
Distance: 18 km.
Meals: Lunch, Breakfast, and Dinner
Difficulty: Moderate
---
Overnight in Aguas Calientes at 1,900 m/6,232 ft.
After a hearty breakfast, on day three we will have the opportunity to do the zip line activity "We run in the air over the Andean Mountains". This activity lasts approximately two hours.
Later. We head uphill for 2-3 hours towards Llactapata Pass (2,736 m/8,974ft), where we come upon a distant but spectacular view of Machu Picchu Sanctuary from the southeast, a view few travelers ever get a chance to admire. We take a short break to explore the Llactapata Ruins, which have recently been restored.
We arrive to Hydroelectric Village "Train station Village", We continue walking next to the rail way until Aguas Calientes also known as Machupicchu Village (approx. 3 hours) to Aguas Calientes, the town of Machu Picchu. Upon arrival, we check into a hotel for a celebration dinner with our guide and one last briefing for our next day experience!
Note - Those who prefer not to hike from Hydroelectric Village to Aguas Calientes can take the train experience 40 minutes' trip "price is not included". They will meet the rest of the group at the train station in Aguas Calientes together. (The guide confirms your preferences the night before.)
About Our overnight in Machupicchu Village: Hotel in Aguas Calientes will vary according your request and expectations.
A LITTLE OF HISTORY:
Bingham first discovered Llactapata in 1912. "We found evidence that some Inca chieftain had built his home here and had included in the plan ten or a dozen buildings. Bingham locates the site "on top of a ridge between the valleys of the Aobamba and the Salcantay, about 5,000 feet above the estate of Huaquina." "Here we discovered a number of ruins and two or three modern huts. The Indians said that the place was called Llactapata." Bingham did not investigate the ruins thoroughly, however, and they were not studied again for another 70 years.
---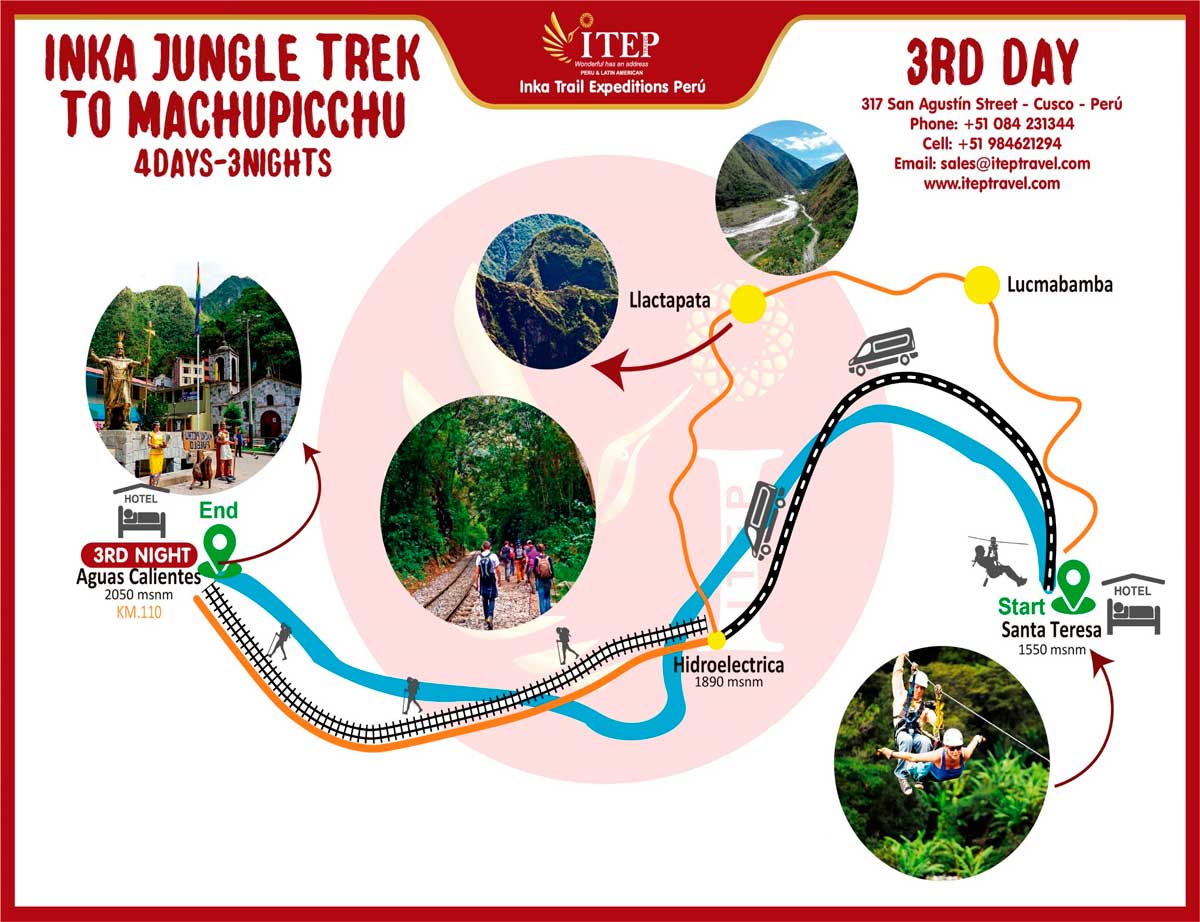 ---
Day 4: Aguas Calientes to Machu Picchu /Return to Cusco: 4 Km "Easy Day".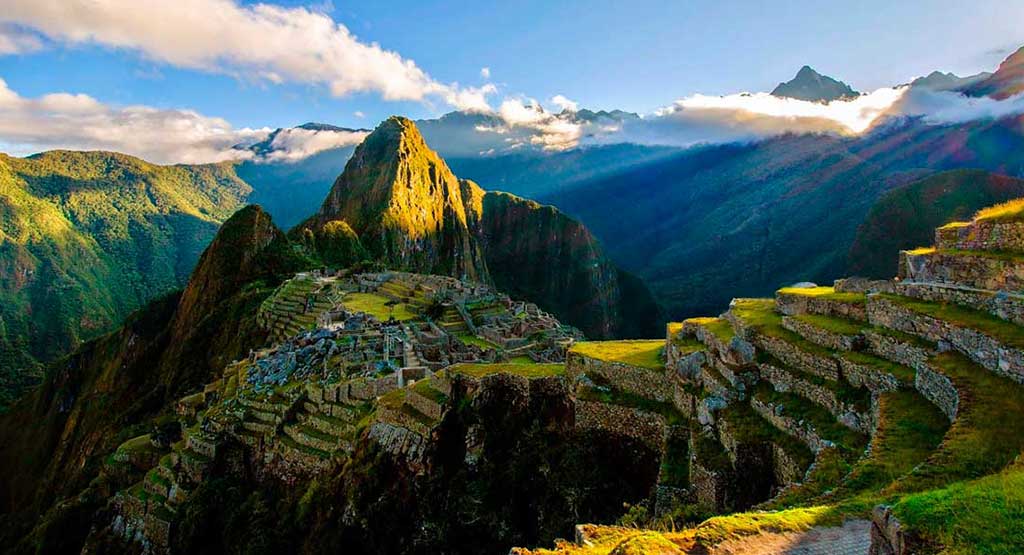 ---
Meals: Breakfast
Distance: 4kms/3.7mls
Difficulty: Easy
---
Today you´ll using the bus services to arrive to the archeological site of Machu Picchu.
If you plan on hiking Mt. Huayna Picchu or Machu Picchu you must make reservations in advance to your trip and the fee is US $ 75.
This is the most important day of the tour, today you will visit one of the seven wonders of the world. The tour will start very early, to appreciate the sunrise in the Inca citadel of Machu Picchu. Our day will start at 5:00 a.m.
Once inside the archeological site, you´ll have a two-hour guided tour inside the Inca city of Machu Picchu, you will see its most important temples, such as the Temple of the Sun, the Temple of the Three Windows, etc. You will then be free to explore Machu Picchu on your own. If you booked in advance, to hike Mt. Huayna Picchu (height: 2,800 meters) (9,186.35 ft.) or Machu Picchu mountain (height: 3 082 meters) (10,111.55 ft.) you will have that opportunity after your guided tour. You must make the reservations to hike either mountain three months in advance for an additional cost of US $ 75.
Space is limited to only 400 people a day to climb Mt.
We also recommend allowing time to relax, meditate and rest while taking advantage of the magical and spiritual energies of this great wonder. After you have finished enjoying Machu Picchu, you will return to Aguas Calientes to take the train back to Ollantaytambo and the return by bus till Cusco
---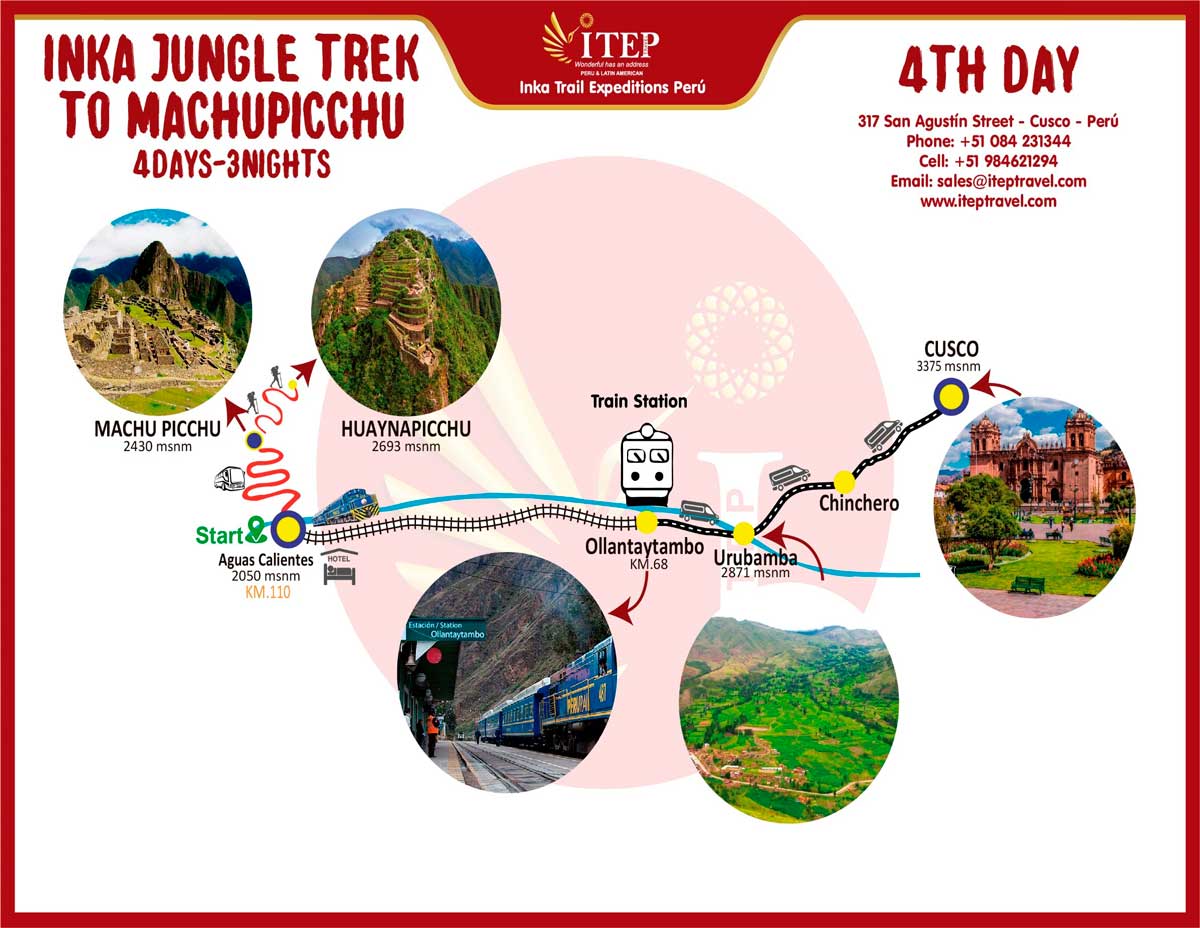 ---
End of our Services
INCLUDES
Pre-departure briefing: You will meet your Inka Jungle trail Adventure guide and group in our office for an orientation before your adventure to Machupicchu. The meeting will be at 6:00 PM the evening before the trip begins. In case you can't come at this time "please let us know" to coordinate another time.
Touristic Transport: You will be picked up from your hotel in Cusco in the morning and will travel by private transportation to Abra Malaga "Alfamayo", the starting point of the Inka Jungle Trail.
Adventure Experienced Inka Jungle Tour Guide: English speaking, professionally educated, and official tour guide with tourism certification. They all grew up in this region and have a true passion to teach others about their heritage. Your guide will explain the culture and surroundings along the entire route, including leading your group in ancient ceremonies! He or she will keep you safe, sound, and comfortable on your trek so that you can enjoy your time along the inca adventure and will ensure you are safe and happy.
Tour Guide in Machupicchu Cultural Experienced: English speaking, professionally educated, and official tour guide with tourism certification. For visit the sacred city of Machupicchu.
Overnights Inclusions: Each campsite is carefully choosed for having a very local experience.

Night 1: the 1st night will be in a local family lodging in Santa Maria village, the local lodging has the basic services such as private bathroom and shower with hot water.
Night 2: the 2nd night will be in a local family lodging in Santa Teresa village, the local lodging has the basic services such as private bathroom and shower with hot water.
Night 3: The 3rd night in hotel is not included, which is in the town of Aguas Calientes; it is also known as Machupicchu Village; prices of hotels will vary according to your expectations and budget. However, we can offer you the option of joining us at our local accommodation Hotel Encanto Machupicchu "at no extra cost". www.hotel-encanto.com Our hostel in Aguas Calientes have double or triple rooms, private bathroom, hot shower, Wi-Fi, breakfast, and luggage storage while you visit Machu Picchu.

Entry ticket to Machu Picchu Inka Site
Biking experience: Professional mountain bike, helmet, gloves.
Zip line experience: Professional assistance, helmet, gloves. Flying across the jungle in Peru.
River rafting experience: Rafting kit (lifejackets, helmet, dress coat, waterproof jacket, neoprene suit, oar, blow-up boat)
Meals: 3 Breakfasts, 3 Lunches, 3 Dinners (Vegetarian, vegan, or special menus are available at no extra cost) Please be in mind (1st breakfast and last lunch is not included"
Water: Inka Trail Expeditions Perú will supply all the water needed only at our office in Cusco "for your 1st day trek", after you arrival in the village and along the adventure you will be able to find plenty local families selling water. For getting the water in our office you must supply your own water bottles or camel back. We recommend carrying about 3L worth.
Medical kit and Oxygen bottle: Our crew will bring a first-aid kit, including emergency oxygen bottle.
Train tickets: From Aguas Calientes "Machupicchu village" to Ollantaytambo train station (departure time is confirmed the day of briefing and it´s subject to availability)
Transfer back to Cusco: Private touristic transport from Ollantaytambo train station to your hotel in Cusco (Day 4)
24-hour guest service: We have telephone service available 24 hours/day for ease of communication and preparation with the agency leading up to your trek.
02 Bus Concetur to Machupicchu inca City: Most of the times the wait to board the bus to Machupicchu is from 1 hour to 1:30 min, So we prefer that you decide a day before your visit to the Inca city of Machupicchu. If you wish to take the bus considering the waiting time. Or if you prefer to do the last stretch of ascent walking up 45 to 1 hour "everything will depend on your physical state, after the trekking done".
NOT INCLUDED
Walking Sticks: You can rent a set from our company if you would like.
Climb Huayna Picchu or Machu Picchu sacred mountain (+75.00 per person)
Panoramic Vistadome train (+50 per person)
Day 1: Breakfast: Approx. Usd5 to usd 10.00, Price can vary according your selection.
Last Day: Lunch and Dinner in Aguas Calientes. Approx. Usd 20 to 25.00, Price can vary according your selection.
Personal clothing and gear
Travel Insurance
Tips for our staff: Please note that our agency staff is well paid so please feel free to tip or not as you wish "Recommendation usd 6 to usd 8 per day per traveler for all the trek staff"- Once again it is optional and can vary according your satisfaction.
Option: If you feel tired after the trek to Llactapata, you have the option to take a train from Hidroelectrica to Aguas Calientes. (Cost: USD $34.00)
Option: Zip line experience: Spend the afternoon flying across the jungle canopy in Peru's largest zip-line.
Additional costs or delays out of control of the management (landscape, bad weather condition, itinerary modification due to a safety concern, illness, change of government policy, political instability/strike, etc.)
YOU NEED
Original Passport
Day Pack
Full rain gear or poncho
Gloves (thin riding and warm gloves)
Trekking pants
Breathable dry fit top-wear
Headlamp
Sunglasses
Hiking socks
Sunscreen
Insect repellent
Bathing suit
Comfortable shoes/flip-flops
Cold-weather jacket
Long-sleeve fleece/sweater Wool hat
Hiking boots
Baseball cap, sombrero and bandana
Casual mountains wear for evenings
Photo/video cameras and chargers
Binoculars
Refillable water bottle (hydration bags are recommended)